Kick off your holidays with a hearty dose of maritime merriment! Make your way to the closest shoreline for a holiday-themed harborside event near you.
Scouring the web to compile these events was a joy in itself. Every town, marina, and organization that hosts a boat parade or harbor event brings a charming spin to the local festivities. Gauging by the photos of crowds, smiling faces and spirited decor, it's clear that the behind-the-scenes work pays off in spades. Thank you to all the folks who bring a little extra joy to our hearts and harbors each season!
See one we missed? Email us to let us know.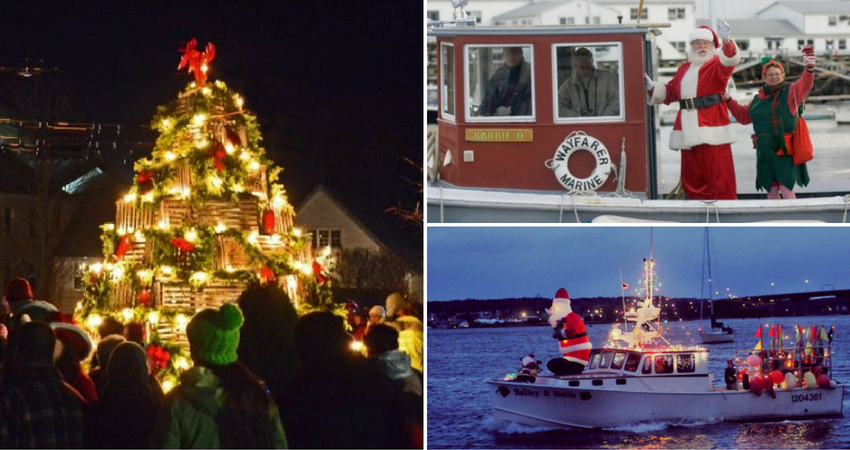 Maine
December 1 - 11: Head to Kennebunkport for their 35th annual Christmas Prelude, which offers a slew of events including Santa's lobster boat grand entrance on Sunday, December 4.
December 2: This Saturday marks Camden's 30th annual Christmas by the Sea! Take an afternoon stroll to the coast to watch Santa arrive by boat.
December 17: Head to Casco Bay for the 2016 Boat Parade of Lights. Two great vantage points (if you're not in the parade) are Portland and South Portland. Book a slip for the night at DiMillo's or Spring Point Marina.
New Jersey
Through December 24, Red Bank is hosting its 23rd Holiday Express Concert, Tree Lighting, & Activities. Stay the night with a slip at Irwin Marine.
Through January 1, 2017: You're invited to An Old Fashioned Christmas in Cape May, during which the seaside town transforms into a Dickens village complete with twinkling gaslights, trolley rides, and themed dinners.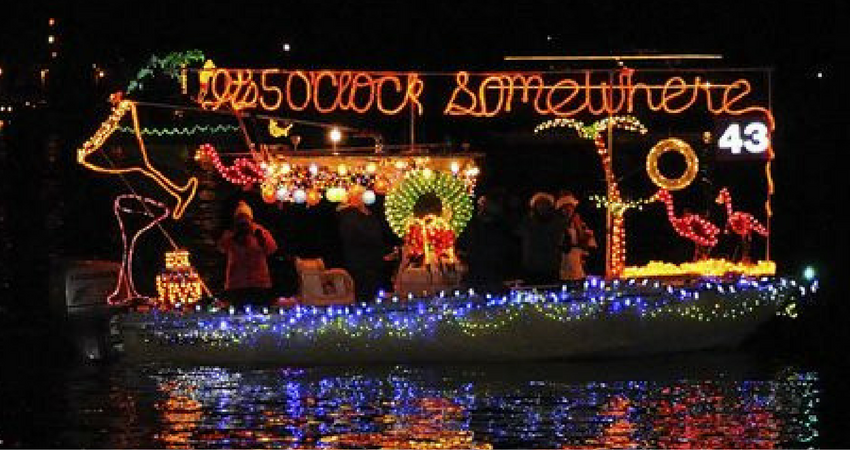 Maryland
December 5: The Lighted Boat Parade in Solomons, Maryland begins at 6:15PM. The parade starts at Solomons Yachting Center, travels up Back Creek, and then proceeds up the Patuxent River along the boardwalk. Stay in Solomons with spot at Spring Cove Marina.
December 10: Voted one of USA Today's Best Holiday Parades, don't miss Eastport Yacht Club's Lights Parade in Annapolis Harbor!

Virginia
December 1: The 24th Annual Downtown Hampton Lighted Boat Parade begins at 7:15PM!
December 3: Head to Alexandria for Santa's arrival at 4:15PM, and stay to watch as the Alexandria Holiday Boat Parade of Lights gets underway at 5:30PM.
December 3: If you're near Yorktown, head to the harbor at 6PM for the Christmas Lighted Boat Parade to partake in caroling, a beach bonfire, cider, and more!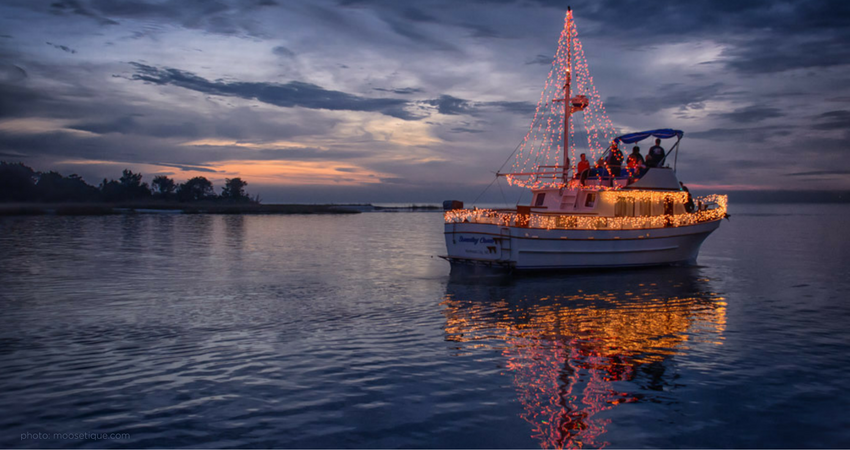 North Carolina
December 1: Watch the Crystal Coast Christmas Flotilla from the shores of Morehead City and Beaufort!
December 3: Head to the New Bern riverfront for the Annual Coastal Christmas Flotilla from 6PM - 8PM, part of New Bern's weekend of Beary Merry Christmas programming!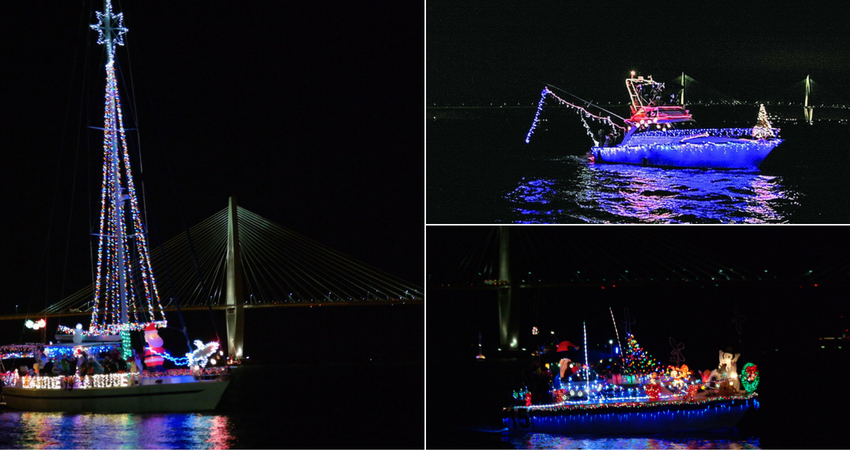 South Carolina
December 8: Join Beaufort's Light Up the Night festivities along the waterfront!
December 10: Bohicket will host its annual Sailing, Santa, Singers & S'mores from 5:30PM - 8PM.
December 10: Charleston will hold its 35th Annual Holiday Parade of Boats starting at 5PM near the Mt. Pleasant side.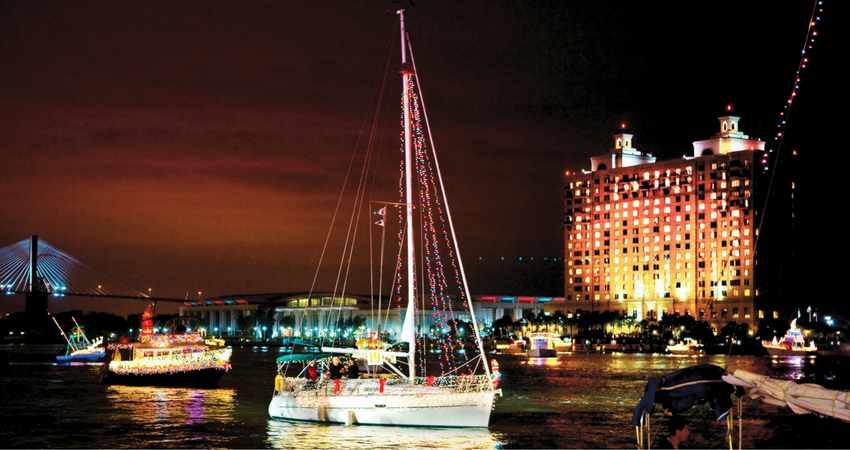 Georgia
December 3: Head to the Savannah waterfront at 5PM for their annual Lighted Christmas Parade! Arrive earlier in the day for more festivities, including pictures with Santa and holiday crafts.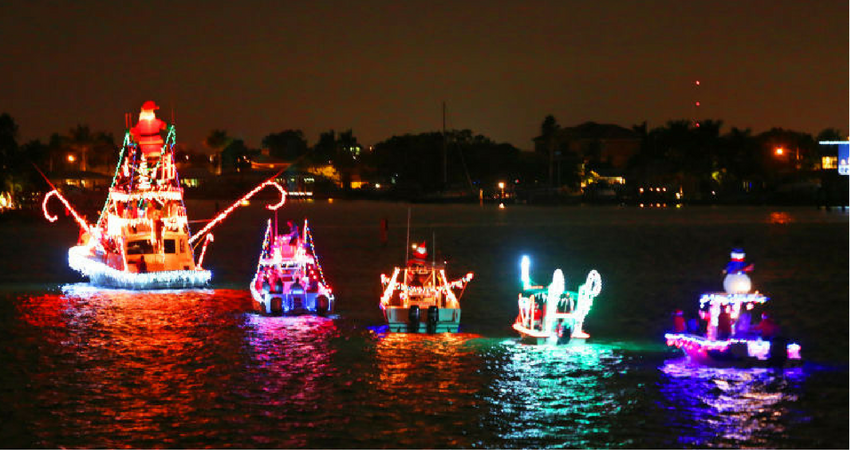 Florida
With 10x the coastline of some of the other states on this list, it follows that we'd find 10x the Florida boat parades to share! In the interest of time, here's the rundown:
December 3
December 10
December 11
December 17
December 18
December 30
The Islands
December 3: If you're in reach of The Bahamas, head to Freeport for the Nautical Mile of Lights Annual Boat Parade! The festivities kick off at 8PM and proceed west through Randall Bay before circling back.
December 10: Key West's Schooner Wharf Bar Lighted Boat Parade begins at 8PM.
December 17: The Key Largo Boat Parade begins at 7:30PM.
TBD: Sources tell us that Virgin Gorda hosts a wonderful "Night of Lights," but we're still trying to track down the details. Stay tuned!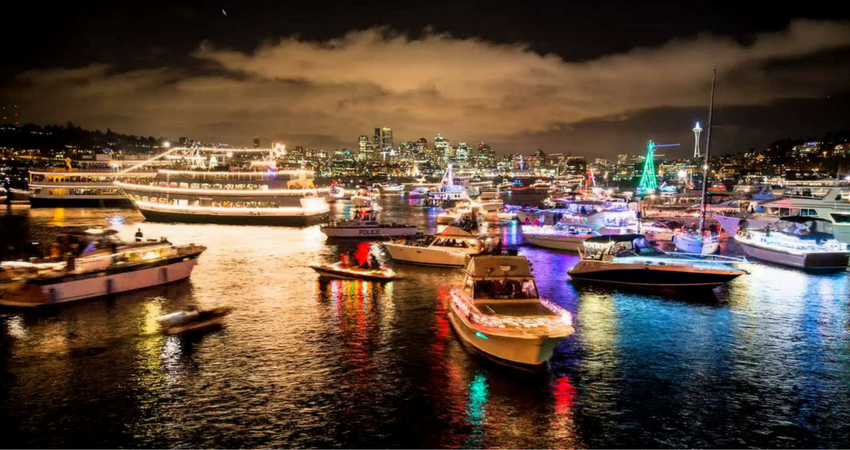 Washington
December 10: Port Angeles is set to host its annual Christmas Lighted Boat Parade along the waterfront.
December 23: Seattle's Christmas Ship Festival is a Northwest tradition! The parade route spans 45 waterfront communities around Lake Washington and Puget Sound.
California
December 3: If you're in the San Francisco area, check out Oakland's Lighted Yacht Parade.
December 11 & 18: Closer to San Diego? Head to the Parade of Lights. This year's theme is "It Began with a Roar" in honor of the San Diego Zoo's Centennial!
Make a weekend of your holiday adventures – reserve a slip or mooring near the action:
Happy boat-carolling!
- The team at Dockwa