Let's get one thing straight from the top: Sheila Ruffin is "The Boss" on deck. In 2019, she founded Soca Caribbean Yacht Charters, a boutique travel agency coordinating "personalized, stress-free, all-inclusive yacht vacations" to tropical island destinations. It's the first Black-owned business of its kind, and Sheila has made it her mission to "reshape the yacht charter industry's perception of luxury travel and yacht enthusiasts."
Born and raised on Virginia's Eastern Shore in the Chesapeake Bay area, Sheila is no stranger to the boating community. She grew up around the water, frequenting the peninsula's beaches, fishing, and crabbing with her uncles.
"Where I grew up, everyone owned a boat," Sheila said.
Her grandfather, Big Rich, was a boat constructor. At least that's the running joke in her family. Big Rich once built a boat out of scrap metal laying around his backyard, including a car roof, which served as the underside of his vessel. Big Rich sailed his "car boat" in the Chesapeake Bay, so, one could say, Sheila inherited her entrepreneurship from him.
Sheila, a graduate of two HBCUs, Hampton University and Howard University School of Law, studied political science and environmental law. After she graduated from law school in 2011, she moved to St. Thomas, US Virgin Islands. She became familiar with yachting and the yacht charter industry through her work as an environmental attorney. Her role focused on examining issues relating to yacht marina construction, boating pollution, coastal zone management, port congestion, public beach access, and a variety of other modern environmental controversies.
Through her work and observation, Sheila noticed a sizable gap in the industry as the demographic she saw yacht charters cater to was white consumers.
"I just didn't see people of color who were chartering these beautiful, amazing yachts, so I always kept that in the back of my mind," Sheila recalled.
But the idea to start a travel agency didn't come until 2017 when she attempted to plan a yacht vacation experience for herself and a group of friends.
"I'm extremely 'boujee,'" Sheila said. "I was extremely stressed and frustrated because I had to plan everything."
Sheila questioned why there wasn't a one-stop shop in the yachting industry as she was the one stuck with securing ground transportation and passport information, determining the logistics of entering a particular island and planning excursions, sightseeing, and touring once there.
"I thought to myself, if this is supposed to be luxury, then why am I stressed? There should be someone to do all of this for me."
From there, she enrolled back into school and took courses at a travel institute to become a certified travel associate. Then, in January of 2019, she officially launched Soca Caribbean Yacht Charters.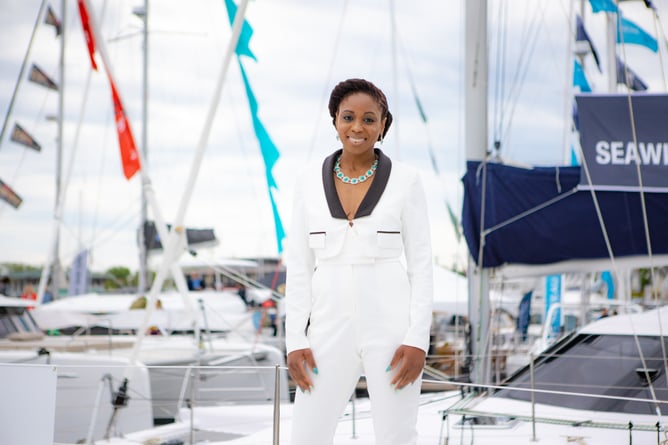 Running a business that's the first of its kind already comes with a good amount of pressure. However, Sheila is doing so as a black woman and a millennial in an industry whose target demographic is traditionally opposite of which boxes she checks. It's an added layer of adversity, but she offers the following advice to fellow entrepreneurs working under similar circumstance:
"Number one, be confident. You're going to have instances where people doubt you. It may even be your family or your friends, but somebody is going to challenge you. Take a moment because it will sting but come back and be the greatest person you can in your industry. In my instance, if you look around the room, the 'yachting industry,' there's no one that looks like me doing what I do. I can't come into that arena with my head held down, tip-toeing around the yacht shows like I'm afraid. I walk in there like I own every yacht, and when I do that, I get noticed."
"Number two, know your stuff. I get a lot of respect because I grew up around the water with my grandfather boating, crabbing, and fishing, and I'm an environmental attorney. If you don't have that background in your industry, you better know your stuff. If that means taking online classes or finding a mentor, do whatever it takes."
"Thirdly, know business. I didn't have a background in business and consequently entrepreneurship, so I took a course because it's important to know both the industry and business."
There have been instances, both good and bad, that remind Sheila of her influence and fuel her desire and determination to succeed. For example, she's received phone calls and emails from strangers who her journey has inspired. One admirer even wrote Sheila a letter while in prison to share their dream of starting a company once released because of her impact.
"It's a blessing to be groundbreaking and to break barriers. It is difficult, but it's also humbling."
Contrarily, the feedback Sheila receives is not always positive. During one boat show in Europe, while networking and touring some of the superyachts, she was met with someone who didn't believe she belonged.
"An individual looked at me and said, 'This yacht is only for people who can afford it.'"
Though this person's actions were hurtful and appalling, Sheila takes it all in stride because she realizes what's at stake. Besides potentially letting down her supporters and proving her opponents correct, Sheila is all in financially. She's remained an attorney to help fund her business as a result of the global pandemic. Unfortunately, once the pandemic began and travel ceased, it directly affected her revenue, and Sheila was left having to fund her passion.
"It's difficult because I don't want to fail, but you can't just give up because you have so many people that are looking to you because they want to start their own company," Sheila said. "You have to continue. There are other people in the community they can look up to, but they're looking at me right now. I have to keep going and figure it out."
For Sheila, having a business in the yachting industry has not been smooth sailing. She finds herself having to simultaneously educate both the industry, which she believes is overlooking a potentially billion-dollar demographic, and communities of color, who have the money but don't look at yachting as a viable vacation option.
"I'm telling people of color you now have an alternative to cruises you may not know about."
Sheila wagers her trademarked "door to dock to door" services you'll receive when you book with Soca Caribbean Yacht Charters. She believes it will provide a better experience than cruises and other yacht charter companies.
She explained, when you book with Soca Caribbean Yacht Charters, the minute you leave your home, you'll have a black car service come to pick you up–no need to worry about Uber, Lyft, or airport shuttles. Once you've reached a Caribbean destination, they'll have ground transportation to come to pick you up and take you to your yacht's marina. You can expect an "amazing, fun, relaxing, stress-free," six-day vacation that includes your yacht crew, gourmet cuisine, premium liquor, water sports, sightseeing, and tours customized to your liking. Then everything is provided in reverse. You'll have ground transportation to pick you up from the marina and take you back to the airport. That same black car service from your departure will pick you up once you've landed and take you home.
"When I planned my yacht vacation, I was stressed because I had to do it all. That's where my 'door to dock to door' services come into play," Sheila explained. "Expect a stress-free, seamless process. Enjoy the yacht with a mai tai in hand, and let us carry the burden of planning a vacation."
Want to see more of the Soca Yacht Caribbean Charters? Visit their website and follow @socayachtcharters on Instagram and Facebook.
Quotes have been edited for clarity. Stay up to date with our First Mates series and more on our blog and join the conversation on Facebook, Twitter, and Instagram.
What's your story? We're on a mission to highlight the boating world's entrepreneurs, small businesses, community organizations, and solo initiatives – drop us a line here to get the ball rolling.