We kicked off 2020 by welcoming marinas from both coasts to the Dockwa network! Check'em out and add a new stop or two to this year's floatplans.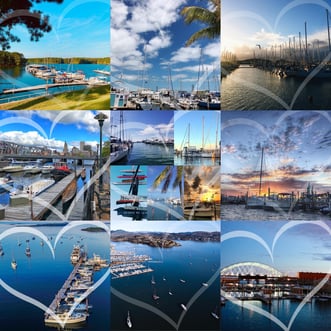 Click on any of the locations below to view photos and learn more about rates, amenities, and other details in their Dockwa marina profile. Wishing your favorite stop would hop aboard? Email olivia@dockwa.com to get the ball rolling.
Psst– See a marina you love? We're giving away free dockage every day, now through Valentine's for new reviews on Marinas.com. Clear here to learn more about our Show Marinas the Love giveaway! 💘
Northeast Marinas
IYRS School of Technology & Trades — Newport, RI
Westerly Marina — Ossining, NY
Chesapeake Bay & ICW Marinas
Midway Marina — Terrell, NC
Tides Inn Marina — Irvington, VA
Queens Lake Marina — Williamsburg, VA
Florida Marinas
Great Lakes Marinas & Inland Water
ways
Wildwood Resort and Marina — Granville, TN
Pacific Northwest
Oak Harbor Marina — Oak Harbor, WA
Port Ludlow Marina — Port Ludlow, WA (pictured)
Quartermaster Marina — Vashon, WA
Love learning about our new marina partners? See which ones joined in December.