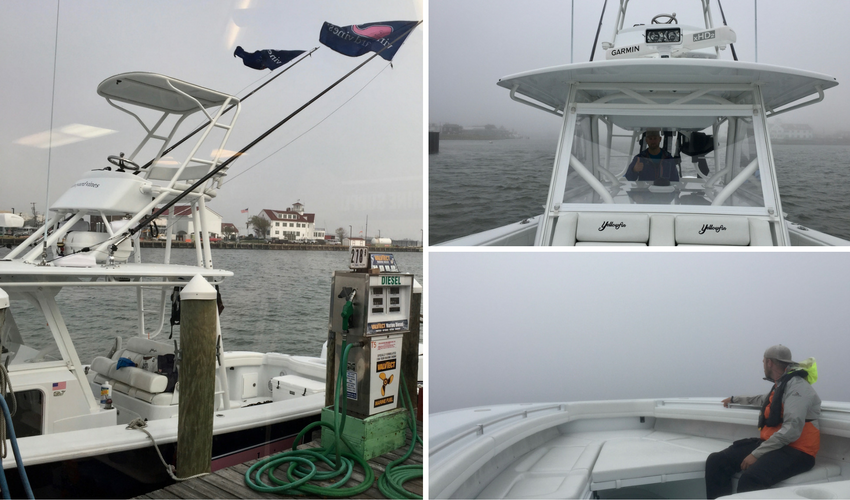 Thick morning fog forced us to drop our speed to ~30MPH from the previous day's average of 45MPH. In addition to the time stall, the compromised visibility demanded our constant attention on our surroundings with no room for error. By our first stop to re-calibrate at 10:45AM, we had already passed a number of tall lobster buoys and nearly sidelined a vessel that didn't have its radar on.
Tired of the obstacles and slow pace, we decided to redirect our course further offshore, which would let us skirt the fog bank. Unfortunately heading straight to Hampton from offshore meant skipping Cape May, but we'll make a point to get there next trip!
By midday, we were far enough away (~7 miles) from shore that the land temperature wasn't affecting the air, giving us clear visibility and the ability to go full-throttle. We noted some traffic in the shipping channel, but all vessels were distant and easily avoided. By 2:30PM we could cut back in and were on course to Hampton.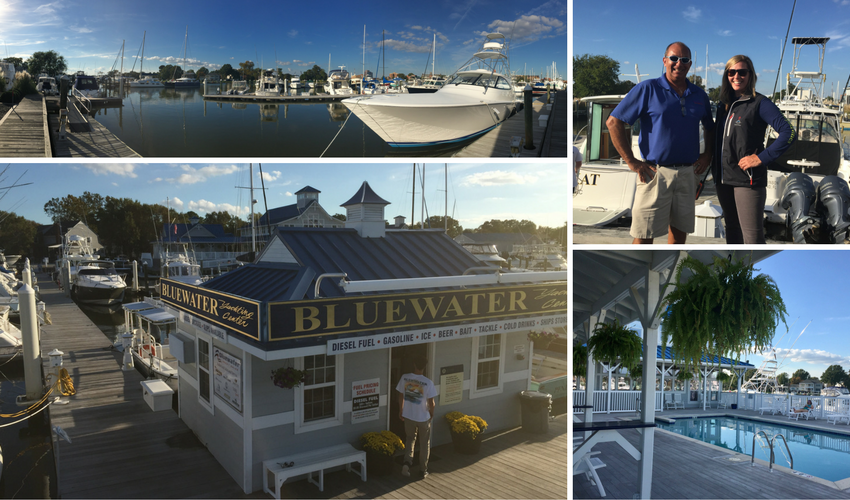 We got into the Chesapeake Bay at around 3:30PM and made a beeline for the Bluewater Yachting Center, meeting Aidan in the front office as well as Dave the General Manager, who showed off their new 52' Viking and 42' Grand Banks. As a crew we noted that Bluewater has plenty of staff on hand to assist with fueling, answering questions, and guiding guests into the 200 slips.
The crew at Bluewater Yachting Center takes great care of their pool, laundry and shower facilities, and in managing the events pavilion in which guests can – and often do – host large rallies and seminars. Also noteworthy: Bluewater Yachting Center provides free water taxi service for marina guests to downtown Hampton.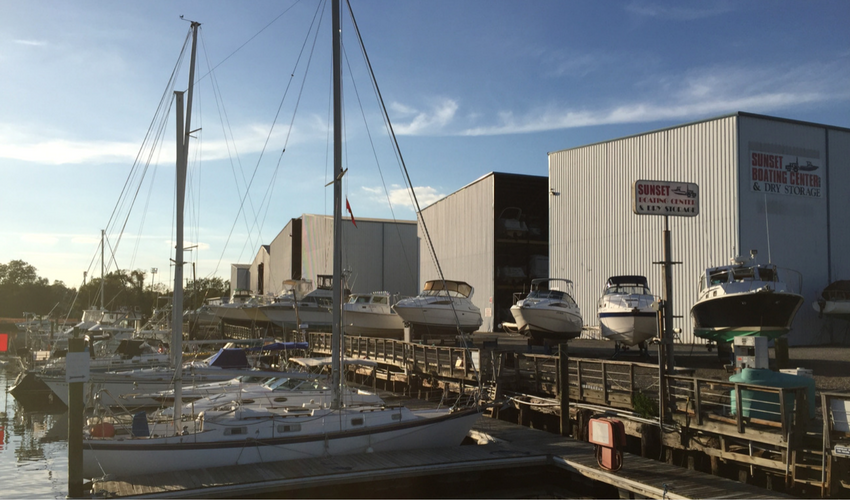 After a quick fly-by of Sunset Boating Center just down the inlet, we paused to debate our progress and the weather prediction for 25 knots the following day. We decided to press on, which lead to the next questions: Do we try the ICW, or make headway on the outside while the weather is holding? We got underway at 5:30PM to keep from falling behind, and stay on track and get south of the cold fronts quicker.
We made it another short leg outside before making the call to avoid boating after dusk, and pulled into Virginia Beach.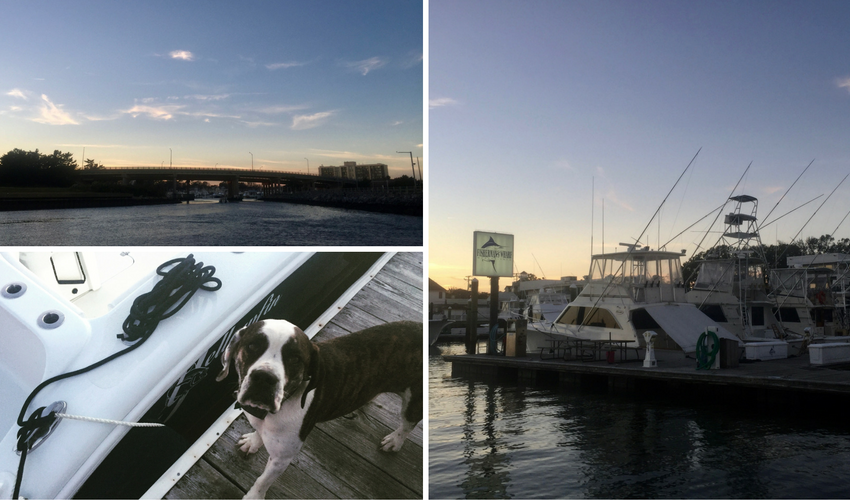 You know what Virginia Beach has? A shortage of Dockwa marina partners. We took this as an opportunity to contrast our experience at Kammerman's with a marina that isn't on Dockwa. After a quick Google search of the area, we tried to contact Fishermans Marina, reaching only an answering machine. This wasn't too surprising, seeing as it was after hours in a quiet harbor town, but the inability to reach anyone served as a reminder of how much money some businesses leave on the table.
The marina's answering machine didn't give any other phone numbers to try or a website to book through (a practice we advise Dockwa marinas to implement), but a group of friendly liveaboards waved us to the facedock, advising us to tie up for the night and work it out in the morning. After chatting about the Yellowfin (this group seemed very keen on the electronics), they took it upon themselves to call the dockmaster on his cell phone, and he then came out to greet us and help us settle up.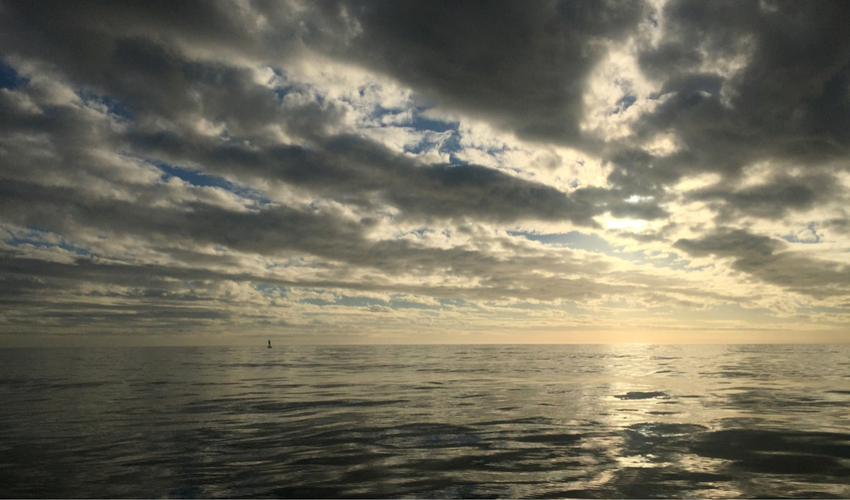 We were up and out the next morning by 8AM with a weather forecast that looked dicey, but the water was total glass leaving the harbor.
We decided to cut in through the Oregon Inlet to avoid going around the outside of Cape Hatteras, which made for some interesting turbulence as the currents met. We took it slow (5-10MPH) due to the massive shoaling in the area, which create huge shallows on either side of the channel that the current moves around. We stayed within the channel markers to avoid running aground, and gave room to the giant dredging operation underway. All said and done, we made it under the bridge never having had less than 12' of water underneath our hull.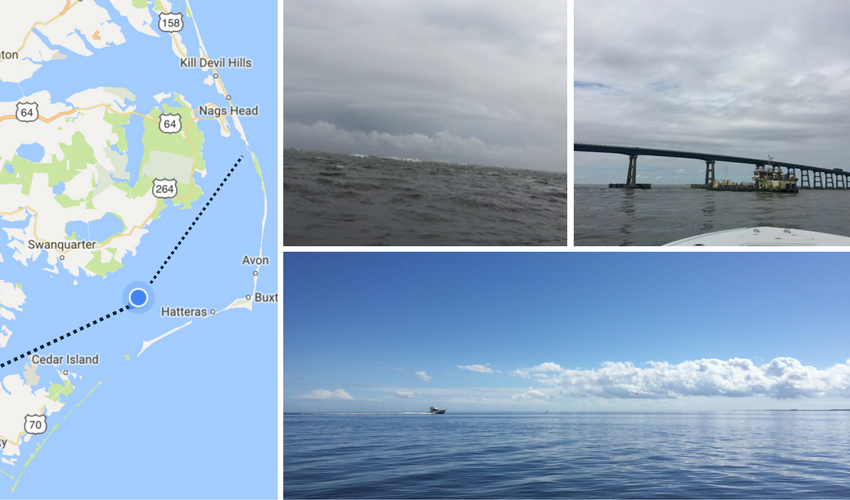 Once under the bridge, Pamlico Bay was wide open, the cloud cover broke, and we could get back up to speed. After veering west-southwest to the Neuse River, we cut south on Adams Creek to arrive at Jarrett Bay Boatworks at ICW Mile Marker 198 in Beaufort, North Carolina at 2:15PM. We radioed Jarrett Bay and in minutes we were docked and taking on fuel thanks to the help of Randy and Josh.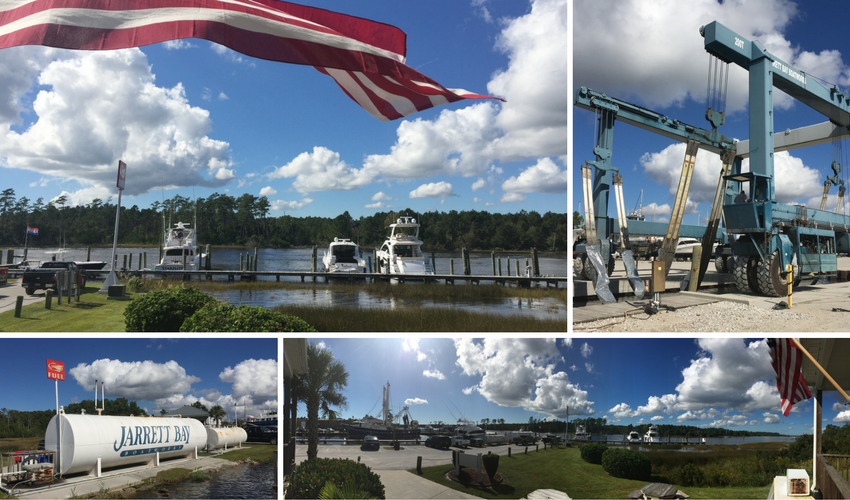 Situated just around the corner from Beaufort, Jarrett Bay is a perfect place for a stopover on your way south, as it's near town and still completely protected. They do an impressive amount of work as well – we didn't see too many 220-ton lifts on our quick trip down! They also offer a deep-water basin, more than 1,000 feet of floating dock space, and complete repair and refit services in a 175-acre marine industrial park. Click here to read our post on Things to Do in Beaufort, NC.
Right after Neuse River, where we'd first intersected the Intracoastal Waterway, we went from seeing no boats at all to seeing dozens of boats coming up that short section of the ICW with us. Since it was fairly calm outside, we cut back out to open water and gunned it to Southport, South Carolina.
About 25 miles north of Southport, we cut back into the ICW at Wrightsville Beach and made our way down the Cape Fear River. We did a quick fly-by of Carolina Beach Mooring Field, which we hear so much about because of how well they're run and maintained by Randy, the long-time harbormaster, and his team.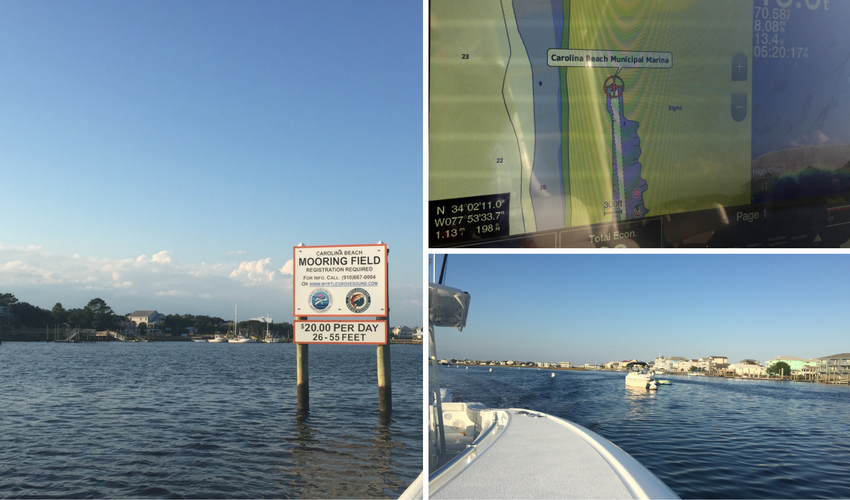 As we neared the southern opening of the Cape Fear River at around 5PM, we met with some chop and spray once past the breakers, but were still able to sustain 45MPH. We arrived at Southport Marina at 6PM, tied up on the face dock with the dockhand's help, and fueled up. We skipped using any water since the area was on a drought restriction, but luckily a squall came through as we were eating dinner to rinse the boat off.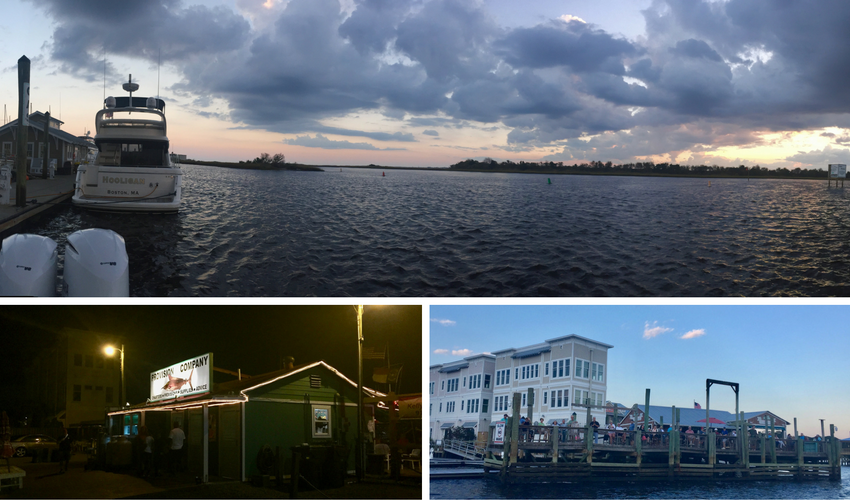 For dinner in Southport, our own CEO Mike Melillo had a fantastic dining recommendation, as he'd spent some quality time in Southport in a previous life. We made our way to Provision Company and were not disappointed: this place has amazing food, cold beer, and a friendly, efficient team that will help you relax after a long day on the water. After crab cakes, spicy wings, cajun shrimp and a few Coronas, we hitched a ride to Walmart to pick up a few boat necessities – which was an interesting endeavor in and of itself, in a one-Uber town.
On another great recommendation from Mike, we took a little morning detour to the Old Bridge Diner just down the street in Oak Island. This was no ordinary diner: the place was so hopping it'd put most Boston brunch crowds to shame. The owners and staff are fantastic, and breakfast was quick and on point (but not rushed); making it clear why this darling spot is such a local favorite.
With it blowing 35 knots on the outside, we hoped to make more progress inside the ICW. Southport dockmaster Hank Pomerantz confirmed that the Socastee Bridge down by Myrtle Beach had been out of operation since Hurricane Matthew – which meant more boats stopping at Southport for an extra day to wait out the repairs, or prepare for time outside the ICW.
Next up, we head to Charleston, Savannah, and Jacksonville!