Menemsha – on Dockwa May 20th (this is huge) originally appeared on MyBuzzardsBay on May 14, 2019.
---
I've been polishing off the restaurant and marina reviews on spots we visited last season. You've seen just about everything I have about Nantucket and you're about to see some Edgartown reviews as well. The next batch coming will be for The Vigilant Island Tour we took last July to Cuttyhunk and Menemsha. A few weeks ago I was wrapping up The Cuttyhunk Fisherman's Club post when this flash popped up on Facebook from Becky at Dockwa: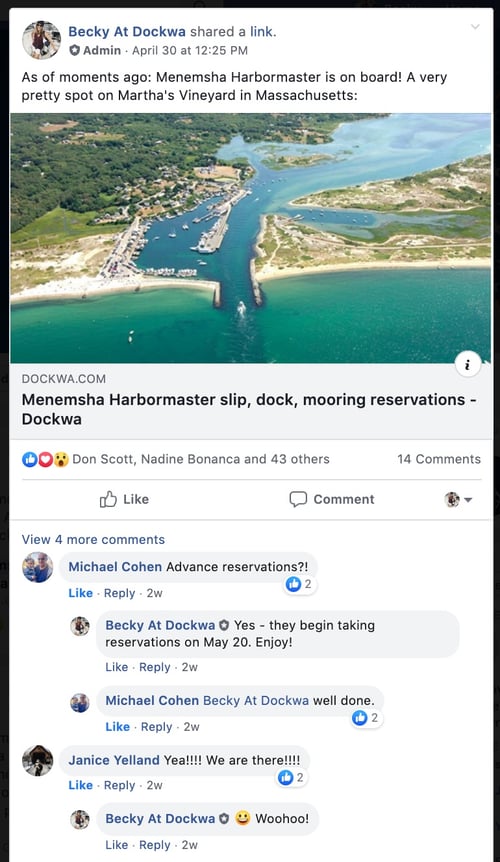 Menemsha Harbor was the next report on my to-do list, but with this exciting news, I dropped everything and moved this to the top of the list.
Why is Menemsha Harbor joining Dockwa huge?
Becky works tirelessly recruiting marinas to join their incredible marina booking service and her efforts have truly enhanced the pleasure of cruising (see Dockwa the Disrupter).
That said, Dockwa has been so successful that most of the "new marina announcements" these days are "late adopters" in harbors that already have plenty of marinas on Dockwa. But in the case of Menemsha, there is only one marina in town and up until now, it's been one that was very elusive to book. With this announcement, Dockwa has opened up an entire new island venue on the south coast of New England.
Booking A Slip in Menemsha Harbor "Old School"
The Menemsha Harbormaster's old procedure (pre-Dockwa) was archaic. Boaters needed to call the Harbormaster at precisely 7:00 AM on the day you hoped to arrive. If there was space, you could book a slip. If not you were out of luck! Folks, it's stuff like this that kept me day-boating.
Back in the days of Mean Kitty, I decided I wanted to take a day trip to Menemsha, so I called the Harbormaster and asked about tying up. He said "very unlikely, maybe you could raft up to a fishing boat for a few hours but that would be between you and them."
Two years ago I met Henry Wainer (owner of Sid Wainer's gourmet outlet in New Bedford). Henry has a 42′ Hydrasport for fishing, but he told me that he frequently goes to Menemsha and gets take-out from one of the fish markets.
A few weeks later I decided to give it a try. Mrs. Horne and I brought our dear friends Peter and Mary Lee over for lunch. We did tie up, but we were chased off by a dockhand and ended up dropping anchor for a picnic lunch.
Last year we finally made it!
Now with Dockwa, we can plan a trip to Menemsha and KNOW we have a slip.
By the way, Menemsha Harbor has a very mariner-friendly cancellation policy: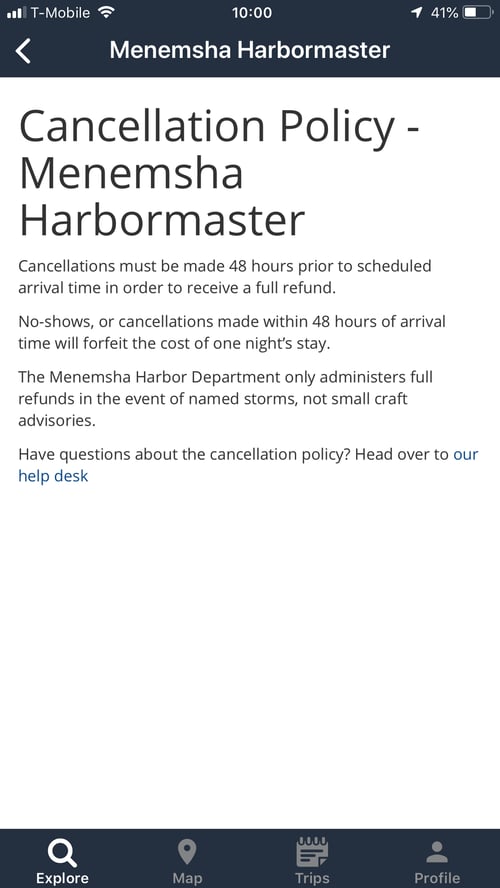 Ed. note: To view any Dockwa partner marina's cancelation policy, simply scroll down on the marina profile. Click here for cancellation FAQs.