The Best Florida Keys Marinas from Marathon to Key Largo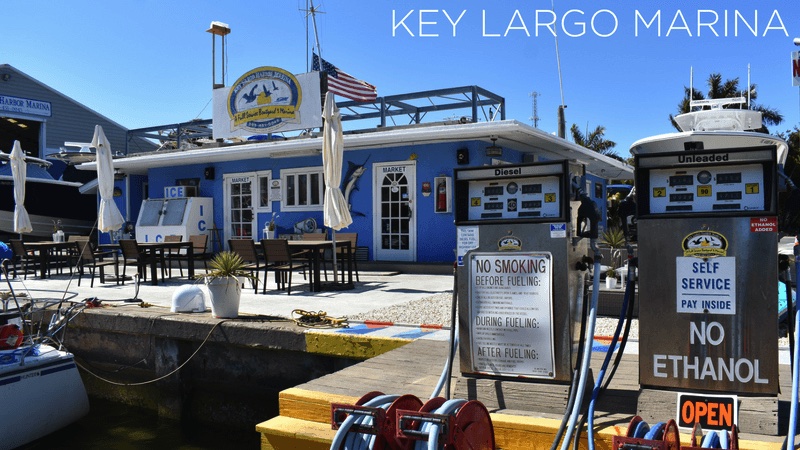 Along the drive to Key Largo I stopped in Marathon to say hello to our friends at Faro Blanco Resort and Marina, speed past the famously bright blue water of Islamorada, pop by Tavernier, and spend a day in Key Largo.
Best Marathon, FL Marinas
Faro Blanco
Upon arrival, there's no question that you're stepping into a world-class facility when you enter Faro Blanco Resort & Yacht Club.
After a quick dockwalk, I met up with Devon and Josh at the Marina Office & Ship's Store – one of the coolest dock offices I've ever seen, located inside the Faro Blanco lighthouse. This energetic team is excited to welcome boaters to their state-of-the-art floating docks and on-site restaurant, as well as help them discover booking through Dockwa. They've recently re-shot their drone video of the property to reflect the more recent construction the facilities have undergone in the past two years, which we'll share on our Facebook page as soon as its posted!
Just a quick stop by Hawk's Cay on Duck Key at sunset shows off their well-kept docks, restaurant, large ship's store, and easy access to the waters beyond. We'll have to make a trip back!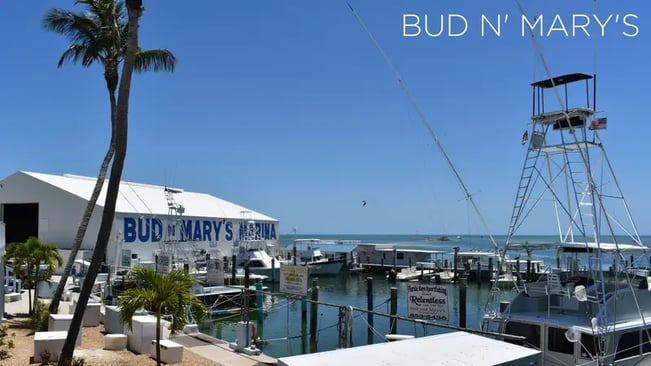 Islamorada Marinas
Driving over Islamorada at dusk and darkness just wasn't going to cut it – I doubled back the following morning to check out a few marinas we'd heard great things about, and am glad I did.
Bud N' Mary's in particular was a great stop, not just because it's one of the more popular fishing spots in the Keys: Dockwa COO Tyler Kneisel's father frequented this marina often in his younger days, and having a personal connection to a place helped give it a little more vibrance. The staff was helpful, friendly, and quick to encourage me to check out the massive Tarpons that swim up to the docks.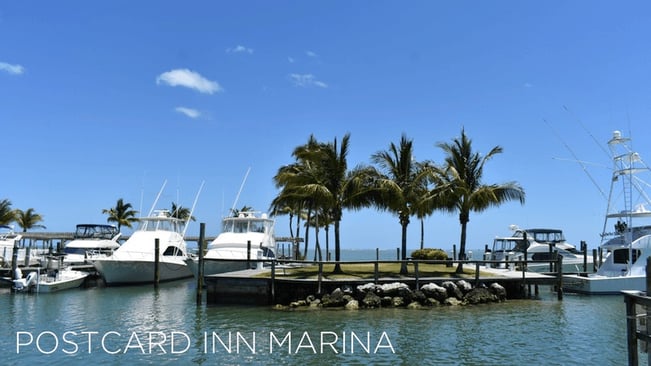 The Postcard Inn Beach Resort & Marina in Islamorada is an entire fishing charter ecosystem in and of itself – it's almost hard to differentiate the companies. I pulled up as Tarpon were being hung from the rack above one sportfishing boat, and took myself on a quick dockwalk.
The restaurant had a noteworthy turnout for a weekday morning, and gauging by the sweet location and available outdoor space, it's easy to imagine big crowds on the weekends.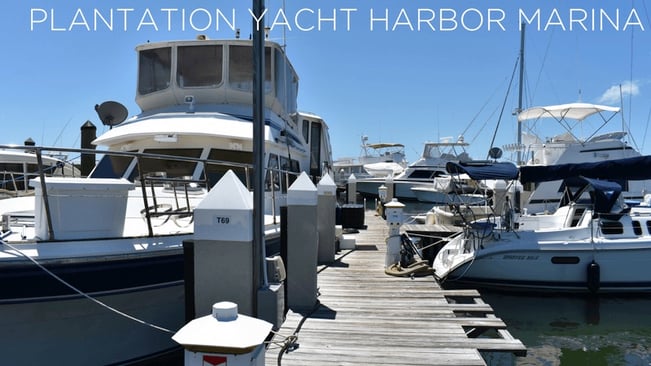 Plantation Yacht Harbor Marina is the complete package, and is so popular that they're forced to cycle out their liveaboards in order to welcome fresh faces to their docks. Guests are allowed to stay a maximum of four months, then must leave for six before they can return.
Assistant Dockmaster Tom Sheahan gave an in-depth golf-cart tour of the property, which includes a fitness center, tennis courts, Olympic-sized pool, grills, and an amphitheater.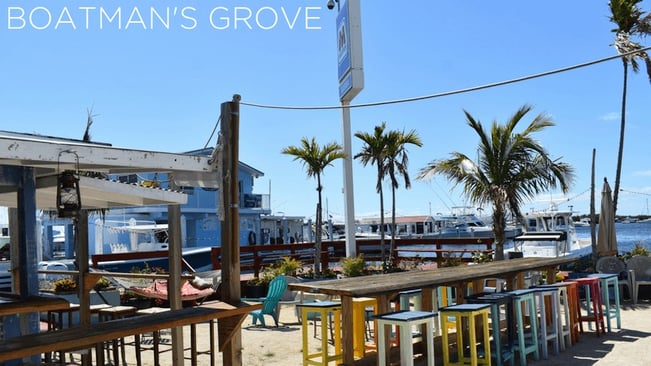 Best Key Largo-area Marina
Boatman's Grove
Boatman's Grove a.k.a. Boatman's Mangrove Marina in Tavernier, is a gem of a Hurricane Hole Marina at Mile Marker 92 on the Gulf side of the Keys. I met up with the team there and got the full tour from Roger, a member of their dock staff.
Boatman's is the largest full-service marina in the upper Keys, with wet slips, dry rack slips, boat ramp, boat launch, fuel, a ship's store, parts and service bays, laundry, bath house, and working yard. But I'd be remiss if I didn't mention just how inviting the marina's shared open spaces are. From the water-side sliders near the fire pit and new tiki bar, to the taco truck (coming soon) made out of a refurbished Gulf Stream camper, Boatman's Grove certainly seems like a host with the most.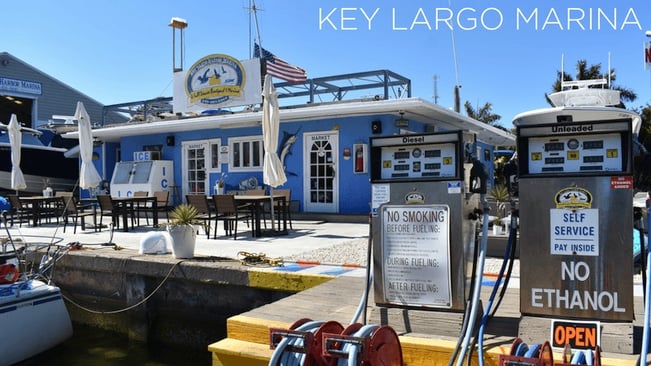 Boating, Dining & Diving in Key Largo
In the Dive Capital of the World – "More dive shops than gas stations," according to locals – many of the boats I spotted in Key Largo were, as expected, loaded up with dive gear. Todd's Dive Shop certified 500 new divers in January alone, but I'm told Rainbow Reef is the best dive shop in town.
Local favorites: Bayside Grille, which is on the water with a great sunset view, and live music from 6PM until closing at 10PM. Order the Black Pearl, a pina colada made with Captain Morgan Black. Sharkies, the local dive bar I'm told is "where all the divers go to talk shit" also had live music and was dog-friendly, even if the service left something to be desired.
While in Key Largo I stopped by Key Largo Marina, which seemed like a pretty straightforward spot to tie up and hit the town!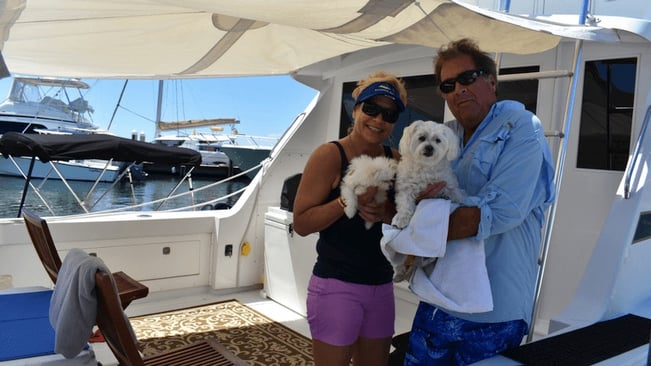 Thanks to all of the dockhands, marina managers, locals, and boaters who've shared their knowledge along the way! Pictured above, boaters Bill & Michelle with their pups Mango and Sasha, aboard their Bertram 38 Sea'Chelle II at Plantation Yacht Club Marina.