Every day in April, we're handing out Dockwa Dollars to boaters who leave marina reviews of our partner marinas. See how to enter and who's won thus far!
Like we said in the kick-off post, all you have to do to enter our daily giveaway is review a Dockwa partner marina to enter to win dockage credit valid at any of our partner marinas.
New to reviewing? Here's how:
Log into Marinas.com, or create your free Marinas.com account if you don't already have one

After each Dockwa reservation, you should get an email asking you to review your stay on our sister site Marinas.com – if you have a post-reservation email, click the link inside to make sure your review shows up as Verified. (No email? Just visit

Marinas.com

and...)

Search for the Dockwa marina you'd like to review and click through to the profile.

Click "Write a Review"

Tell your fellow boaters about your stay: What made you pick that marina? Were they fast to respond to your reservation request? What was the condition of the docks overall, and your slip in particular? Were you greeted? Did they help you tie up? Were the bathrooms clean? What other amenities did you use?

Repeat steps 3-5 for all the Dockwa marinas you've visited! 💯
Winning Reviews:
April 1
We've used this marina in lake Havasu consistently for years. We vacation in the summer with our 18 ft. Chaparral. This marina is very centrally located to a variety of accommodations. The fees are much lower than staying at the London Bridge Resort and paying their dock fees. Price and location are very important and this marina wins both of these categories! The staff are professional and friendly which is like icing on the cake! My husband is also very particular with our boat and he likes the quality and conditions of the boat slip. We can leave our boat and not worry! Thank you and hope to be back again this summer! 💦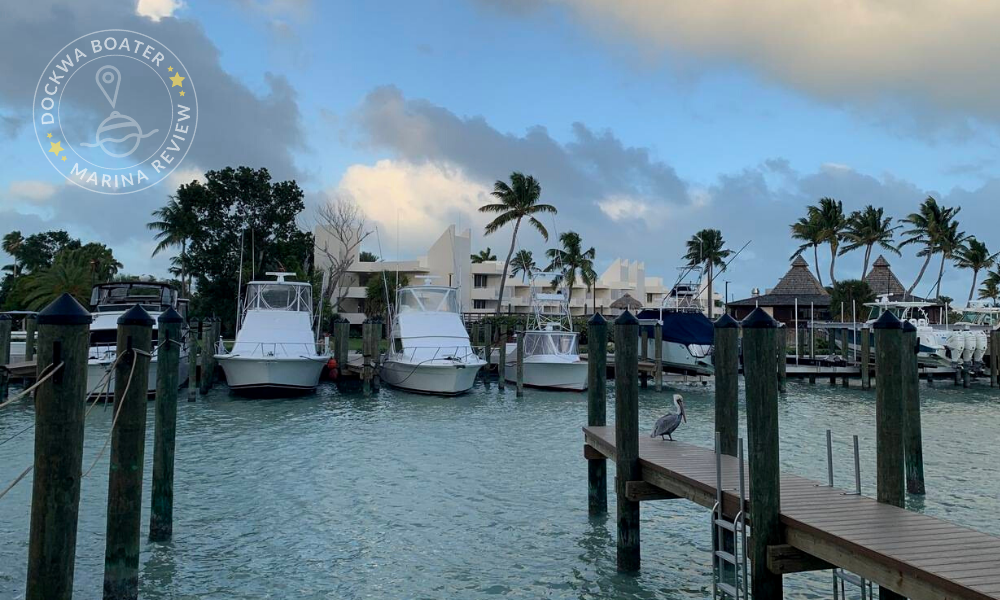 April 2
We rented a house on Iroquois for the month of March and brought along our boat - unfortunately, the state began dredging our canal and we had to find another option quickly. Caloosa Cove was great - they were able fit us into their schedule for a slip for the whole month. Everyone there was really nice and helpful!
April 3
My stay was super short as I was only transiting through. Came in a little after 5:00 and staff was still here at my slip to help me in. Beautiful marina and really nice amenities. Mini grocery store and cafe across the street is awesome. Would definitely recommend this marina and hope to be back again for a longer stay.
April 4
Nice Marina, close to Georgetown, SC. Protected deep water slips on the Sampit River near the head of Winyah Bay. Front street is a short boat ride away with courtesy docks and lots of great restaurants and shops. The area is known for great fishing and crabbing all around. Good place to rest if transiting the ICW. Great place to keep the boat for longer rentals too.
April 5
What a great marina! Henry (the owner/dockmaster) is on the mark with service. We needed a diver to meet us at our boat - and Henry made sure the diver was there when we arrived. In addition, the bathroom/showers are the cleanest we've seen anywhere. Henry will point you to the courtesy golf carts to take into town for supplies or restaurants. Stay here on your way by, you won't be disappointed!
We stayed in slip 20. It was a direct opening to the harbor with easy access. The winds were very strong as they tend to be in the afternoon in Salinas which made docking difficult. The staff was courteous and helpful. The marina has been upgraded tremendously since Hurricane Maria. Only complaint is the slip finger was so short it was not even useful on our 50' Sunseeker for entrance or exit. We had to exit straight to the aft over the dingy.
April 6
We asked, this boater answered! This mooring field is brand new, so getting intel from eyes on the ground is immensely helpful. This review wins one of the coveted $100 Dockwa Dollars prize.
I snorkeled to check the buoy and it appeared to be new and in good shape, easily able to hold our 18 ton sailboat. The bay was nicely protected with a lovely view of the island. The buoy attendant was helpful while we were in quarantine. Highly recommended.

Great marina on the ICW. Docked for 2 days early April bc of winds and can't say enough nice things about the marina crew (and the crab stew at Zachry's Riverhouse restaurant). Took the complimentary golf cart to general store when we arrived and used the free bikes to explore the island the next day. Awesome experience !
April 7
We were very impressed with the extraordinary service and help we received from Frank, the harbormaster. He went out his way to be there at the dock, helping with the lines and answering our questions in a very pleasant and humorous way. He made our visit fun! Thank you Frank.
April 8
Restrooms and shower areas need to be redone. Needs paint and new fixtures. Public restrooms were in much better shape. Also since you access the ladies shower and restroom from the laundry area, it might be better to have a different lock code or system to enter ladies room.
April 9
Have stayed at Shipwright several times since 2018, always a nice experience. Staff is wonderful. Pricing for slips is reasonable. Bathrooms, laundry room, pool are all well maintained. Easy area to kayak or dinghy around.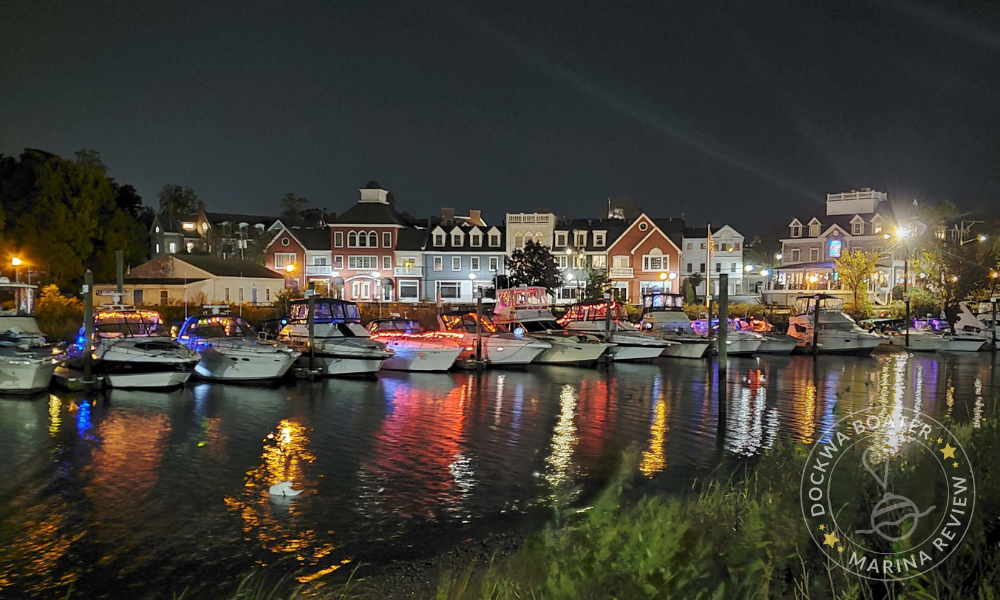 April 10
Very quaint marina. Staff is friendly. Can walk to town with many restaurants. Have spent many years there during fireworks display for 4th of July and can sit right on your boat for a fantastic view.
April 11
The location is great for access to downtown Wilmington. However, the restroom and shower facilities were far below par for the rate we were charged. They consisted of a construction trailer next to the office, and were not clean. Also, our slip was completely exposed to all wakes/waves created on the river resulting in a rolly stay. Unless they adjust the rates to match the amenities, we wouldn't recommend this marina.
April 12
Thanks to Tanya R. for sharing in our Facebook group that she wrote this review – we almost missed it! Great detail on the facilities, amenities, staff, dining, and what's nearby. $100 coming your way asap, Tanya!
We had an amazing stay at Safe Harbor – Harborage in March. It's a very nice marina with clean grounds, very nice pool/grill/tiki area and even an Amazon Locker! The slips are on floating docks with dock boxes which is very nice when traveling with your four-legged kids. They are very pet friendly with water bowls placed around as well as a special area for them to do their business with complementary poo bags and trash can. The staff and Marina Members were very friendly and welcoming. There is a restaurant on the water (Big Catch at Salt Creek) a couple blocks down that is attached to the Harborage Marina. The food was great, including the Yappy Hour menu where the "Hot Diggy Dawg" did not disappoint our pooch! We were walking distance to town, the Dali, and more… We will absolutely be back.
April 13
Perfect location, great service. Dock hand followed my progress and waited past normal hours for our arrival as we were coming north on ICW. Love being able to walk off the marina right to the adjoining restaurants.
April 14
Caution! Listed approach and dock depths are for the fuel dock only, the marina itself is very shallow, 4 ft draft will be on the bottom at low tide. The facilities are great though, a park like setting.
April 15
Yikes! A good reminder for marina staff – just because someone isn't booked with you now, doesn't mean they wouldn't one day.
Dock manager is a jerk to sailors anchored nearby known anchorage. Threatens them if they come within 500 yds. Call the Bahama police he clearly does not understand maritime and Bahama laws. If he threatens you call the police and put a stop to this Jerk! Boats on dock take a beating from passing traffic. That should be his real concern. I would not keep me boat or yacht here!
April 16
We're not just looking at 5-star reviews for this giveaway – case in point below. Thanks to this boater for providing a ton of detail; while it doesn't necessarily pertain to a transient or long-term stay, any interaction you have with a marina in a boating situation may help your fellow boaters.
I recently purchased a used boat from [this marina]. When purchasing the boat I had request a sea trial but due to mother nature we could not. I decided the purchase the boat based on being told the boat runs without issue. I also had concerns about the trailer being to small but was assured that even tho not the correct trailer, I would work. On my drive home, we couldn't go over 60mph due to the trailer starring to wonder from being back heavy. Once we got it home, and started to head to the marine, a tire blew on the back axle of the trailer and the opposite side was completely bald. spent the rest of the day replacing both.

The next day we went to take it out, it over headed before I could get it to the dock after backing off the trailer. The marina had told me it had an overheating issue in the past but it was fixed. Once we were able to get it back to the trailer, the winch to pull the voat the upper post did not work. I called the salesman Justin, who has done a lot to try to help out, and explained the situation. He went to his boss who told me that, "the trailer working could be up to interpretation." When trying to trouble shoot the engine over heating, I found that the cover for the raw water impeller was missing a bolt this causing the pump to suck air and keeping the water from being able to cool the engine. The marina says they just changed the water pump and has a work order to prove it. So they were willing to talk to me over the phone but were not willing to spend $2.00 to send me the gasket. The manager told me the problem could have occurred because the motor over heated, but this was the first time I attempted to run it! When I asked straight out if they could send me a gasket he said no its not warrantied. Their work isn't warrantied!

Back to the trailer, they charged me $1500 for the trailer for "tax" purposes. due to the inability to use the boat they asked what they could do to help, to which I asked what they FROM THEM were willing to as they had denied any of the previous requests. The best he could do was offer to cross dock a trailer and let me drive back down to get it. But still charge me the cost of the trailer. DO NOT BUY ANYTHING FROM THEM!
April 17
Great stop. The staff was super friendly, easy in and out, and the location is nice and quiet. It is a bit far if you're trying to get elsewhere on the island, but worth a stop.
April 18
Dockhand was extremely helpful Floating docks and marina store is very nice. Several places nearby (walking distance) but expect to wait for a table. Call ahead to see if they take reservations.
The Homer Smith Marina docks are the best docks we've seen on our 3,000+ trip. The Marina raves about them on their website, deservedly so. Free laundry, 2 loaner cars available even during COVID, location a short walk from the lively town center & nice owner. The only aspect missing that we would have appreciated would have been a dockhand to assist in windy conditions upon arrival.
April 19
Easy to get into, good slip, the dockhand was very helpful and (even better) knowledgeable. I would not hesitate to go back.
April 20
Been my marina for the last 15 years. Friendly, professional and responsive staff. Cleans showers and restrooms. Good security. Easy in and out, especially in the North (commercial) harbor. Friendly shipmates. Gas dock staff efficient whether getting fuel or a pump out.
April 21
Dock Master Mark was fantastic and very accommodating! My family had a great time. We will be coming back in the near future. Thank you Mark! The Lobisser's Princess F50 "Making Time"
April 22
If you're either coming through the area or looking for an extended stay, at a place with GREAT customer service, that's away from the craziness of Duval Street, then Stock Island Yacht Club & Marina is just for you. Easy access to probably one of the best run West Marines in the Country, Canvas Shops, and local Restaurants and Bars, this Marina is always my go-to when in the area.
April 23
For many years my wife and I headed "downeast" and rarely have missed a stop at DiMillos. The reasons are simple; its downtown location, its helpful dock crew, and the great offering of shops/ restaurants/ and attractions. We love being able to walk a short distance and obtain everything from incredibly fresh fish to specialty items for boat and home. Always a friendly stop as we travel the Maine Coast.
April 24
Nice Marina in a safe area, walking distance to local shops and food. We were there for a night in Feb during both COVID and a snowstorm during a work transit. Dockmaster Sam was great at exchanging information and assisting, even though unavoidable issues prevented him from personally being onsite. The office staff was also very helpful with having packages shipped to the marina. Very calm considering the the proximity to the NY harbor taxis and tugboat traffic. Easy to enter and exit. Only issue we had was the wifi was marginal. Ended up hotspotting a cell phone for a stronger signal.
April 25
Our stay was awesome! What a charming town - we really loved it. The marina staff were very friendly. Being off-season they are staffed on the weekends and not during the weekdays. If you need to pump your head, you'll need to wait until the weekend when staff is there. But during peak season the marina is staffed. I would check with the marina first if you need a hand docking and also to get the local knowledge regarding turning out of the Roanoke Sound to the channel that takes you to the marina. The water can be thin and they can tell you what ATON's to stay to or away from. The town of Manteo and the Roanoke are beautiful! I highly recommend a stay here.
Fusion Resort – Treasure Island, Florida
Edwin the harbor master was fantastic! So helpful with everything. Super friendly! Docks are new , resort is nice, beach is close by. We will definitely come back—mainly because of Edwin! :)
April 26
Nice clean Marina right in downtown. Staff and security are great to work with. Must go to Nenas Mexican Cuisine which is right there off the guest dock.
April 27
Great marina, with current and tides definitely need to come in at slack tide. But lots of help for lines. Nice spa pool, social hot with appetizers, boaters breakfast at restaurant for 6.95. Beautiful view with dolphins playing often.
April 28, April 29, April 30... Keep tuning in to see if your review won!