The Maine Island Trail is a 375-mile water trail that spans Maine's coast, from Kittery to Cobscook Bay. It connects 246 wild islands and mainland sites open for day use or overnight camping as a recreational water trail. MITA, or the Maine Island Trail Association, is a membership organization responsible for managing the wellbeing of this coastal landmark. The MITA doesn't own any of the lands, but the existence of the Maine Island Trail is based on handshake agreements with public and private landowners.
We're more stressed than ever, and Madison understands first-hand how spending time outdoors benefits our mental and physical health. According to the American Psychological Association, were facing a national mental health crisis. In 2020, a study indicated that nearly 8 in 10 American adults consider the global pandemic a significant source of stress in their lives. Madison believes it's MITA's purpose to provide opportunities to escape by bringing people to natural landscapes like Maine's Island Trail.

"You shouldn't have to own a boat to have access to Maine's islands," Madison said, "We're starting to interrogate the word 'access' and trying to think more broadly about what the role MITA should play in connecting everyone, specifically youth, with these places."
Madison in her own words explained MITA's mission and initiatives below.
A Membership to the Maine Island Trail Association
We like to say membership to MITA is the cheapest way to get 375-miles worth of coastal property in Maine. In addition to supporting all the work we do, for $45 a year, you'll receive our Maine Island Trail Guidebook and Maine Island Trail App. The guidebook and mobile app provide all the information you'll need to find the islands' best landings, campsites, hiking paths, dog-friendly areas, and more, so you can easily plan your cruise from island to island.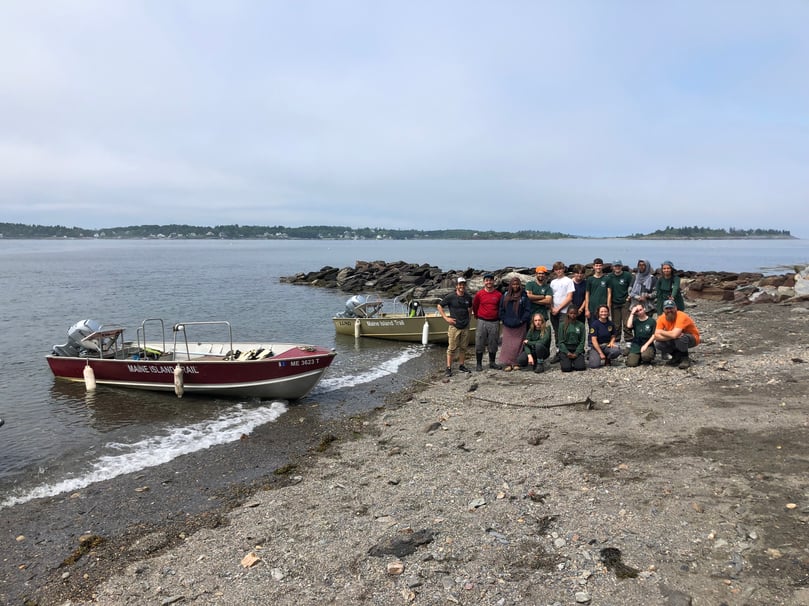 MITA also hosts community events throughout the boating season and virtual events throughout the off-season. Our volunteer programs, which are at the core of our work, operate from May to October. MITA's volunteer opportunities include island cleanups, island adoption, a monitor skipper program, island work projects, group service days, and more.
Why Volunteer Stewardship is at the Core of MITA's Mission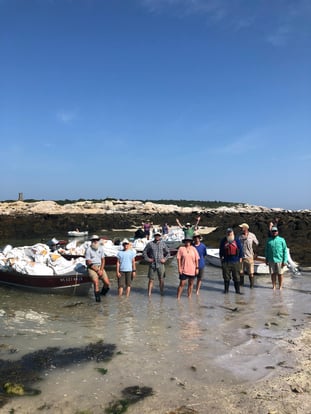 In the spirit of MITA's effort to ensure the health of the Maine Island Trail, the MITA encourages all island visitors to be active caretakers of the places they visit. With this in mind, MITA offers several volunteer programs, the hallmark of which is our shoreline cleanups.
We take about 2,500 volunteers to the islands to collect the trash accumulated from the marine debris in the fall and spring before it's heavily used in the summer or put to bed in the winter. MITA will post signups a few weeks in advance, and they always fill up within hours. We end up having to manage waitlists because so many people are excited to go out, explore the islands, and spend a day on the water. Our guess is it's better to use somebody else's gas rather than paying for your own.
We break up densely populated sections of the coast into regions and take about 30 people on four to five boats. Each boat will have a different assignment, and for the most part, these groups will land, beach their boat, and hit the ground running. For example, at one of our regional cleanups, we took 74 bags of trash off an island with just 24 volunteers, so it's effective.
Our Monitor Skippers primarily serve as boat drivers for scheduled monitoring runs from June to September and may also drive for cleanups or other island work projects. In addition, our fleet of powerboats we've stationed along the coast check the island conditions weekly.
Through our Island Adopters Program, volunteers do similar work on their own time and boats, checking the conditions, picking up debris, and interacting with island visitors to promote low-impact use on the sites they've adopted.
We also organize island work projects throughout the summer season, such as trail maintenance and invasive plant removal. The MITA also hosts Group Service Days for schools, camps, or corporate groups looking for a meaningful and fun way to do community service as a team and tackle a project on one of our islands.
Protecting the Maine Island Trail for future generations
There's something special about these islands, but they're incredibly fragile. They're tiny ecosystems where even the most minor change can have significant consequences. It's crucial to protect these places so we don't lose access to these moments of quiet.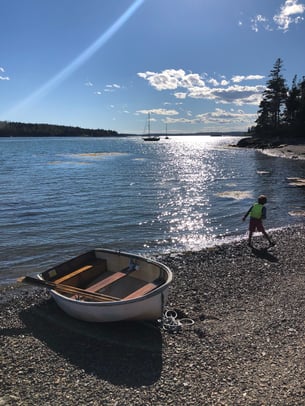 In times like these, people are increasingly overwhelmed by current events, so we need to unplug. There's this sense of calm and solitude that people, not just myself, feel when we're out here. It's why our 9,000 members keep coming back.
The best we can hope for is the experiences MITA provides will facilitate or instill a sense of value in the natural world. For example, I've been trying to phase out single-use plastics. It's challenging, but the garbage we pick up from the islands is mostly water bottles and coffee cups. Boaters are not just throwing trash overboard; it starts upstream from landfills and works its way down the coast. There is quite a bit of marine debris floating around, but you're not going to see 74 bags worth of trash when you're cruising along.
The best we can hope for in the next ten years is the experiences people have when they visit the island will encourage them to adopt a leave no trace ethic or at the very least respect for these places, the planet, and humanity. We've all developed a personal connection with the trail. The islands hold an important place in our social-emotional health.
Want to see more of Maine Island Trail Association? Visit their website and donate! Follow the MITA on Instagram and Facebook.
Quotes have been edited for clarity. Stay up to date with our First Mates series and more on our blog and join the conversation on Facebook, Twitter, and Instagram.
What's your story? We're on a mission to highlight the boating world's entrepreneurs, small businesses, community organizations, and solo initiatives – drop us a line here to get the ball rolling.