Today on the blog we're discussing how to finance a boat and how boat loans work so you can be fully prepared when you go to make your long-awaited purchase.
Where Can I Find a Boat Loan?
There are several ways to arrange to finance when looking for a boat loan. You can work directly with your boat dealer, get a loan from a bank or take out a loan with a lender specializing in marine financing.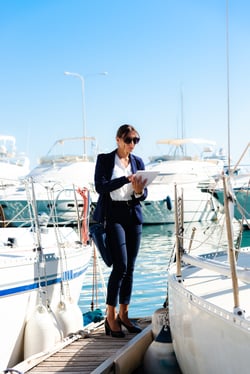 Each of these options has its benefits. The best one for you will depend on who you are purchasing your boat from. Arranging a loan through your dealer is typically the best and easiest course of action. Coordinating a loan is an everyday occurrence for dealers, and they know the process like the back of their hands. Also, they will likely have connections with lenders and can work directly with them to get your loan set up.
Going through your bank is helpful if you set up a second mortgage but can add some time to the process. Be sure to factor that into your purchasing timeline. Working with a lender specializing in marine financing is another option to explore. These lenders are experts in the industry and specialize in coordinating these types of loans.
Types of Boat Loans: Fixed- vs. Adjustable-Rate
There are two types of boat loans that are the most widely used in the industry: fixed-rate and adjustable-rate loans.
A fixed-rate loan is by far the most popular choice because it allows boat owners to lock in a rate and offers predictability when budgeting. You'll know what your payment will be long term and you can plan accordingly.
An adjustable-rate loan is an option for buyers to accommodate interest rate fluctuations over time. When you first outline financing with this option, you may be able to lock in a low introductory rate followed by one that adjusts according to interest rate indexes. In the case of an adjustable loan, be sure to check the number of years that your rate stays fixed, as this can impact costs.
Additionally, boat loans also include a lump sum "balloon" payment at the end. Be sure you can afford the payoff amount at the end of your lease term with this option.

What Factors Affect Boat Financing Terms?
Various factors will impact your financing terms, including the size of the loan, the type of boat you're purchasing, and the vessel's age (if buying used).
The loan size also impacts the payment period, with larger loans financed over a more extended time period. Most lenders will let you know of a minimum loan amount for specific periods, so you can discuss how long your loan will be when financing.
The type of boat you are buying will also impact your financing terms. Most modern powerboats have straightforward financing terms, while high-performance boats, multi-hull boats, pontoon boats, and sailboats may have slightly different agreement terms. Additionally, if you're thinking about pursuing the liveaboard lifestyle, you will have to take a different approach to finance. Living aboard involves laws surrounding residences and homeownership, which impacts the loans you're able to use.
But it's not just the type of boat that impacts financing; it's the vessel's age too. Some lenders won't offer loans for older boats, and you may face higher minimum loan amounts or different finance rates depending on the boat's age.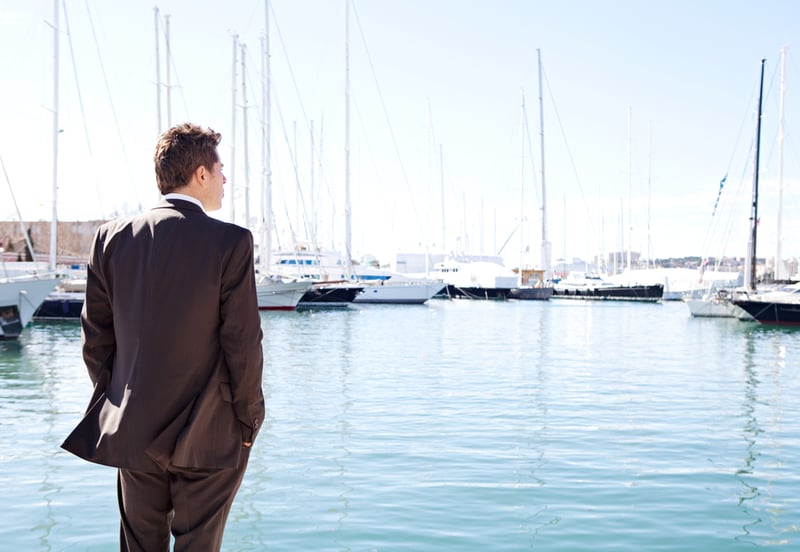 Boat Loan Alternatives
Whether you are buying a new or used boat, there are a few other loan options to consider.
The first, personal loans, can either be secured or unsecured. You back secured loans with collateral, so in this situation, the boat you purchase could act as the collateral, and if you stop making payments, it would be repossessed. An unsecured loan can be an excellent option for those with good credit but may be riskier for those with a less than perfect credit score. You'll find lower interest rates, and, in this case, since the boat isn't anchoring the loan, the lender can't repossess it. With both personal loan options, it's also important to note that most loan terms run from two to five years.
If you're looking for something other than a personal loan, there is always the option to take out a home equity loan or second mortgage, though this can be risky if you default on the loan.
Typical Boat Loan Terms
Many boat financing options will have longer terms, ranging anywhere from 10-20 years, and offer lower interest rates. You'll also find that the down payment required will vary from purchase to purchase, and you may be able to find some no-money-down deals.
A great way to predict your payments is to use a boat loan calculator like Discover Boating's. Factors like your credit score, down payment, and interest rate, will all impact your monthly payment, but there are a few generalities that Discover Boating notes:
Interest rates generally go down as the loan amount goes up.

Interest rates generally go down as the term of the loan goes down.

Higher loan amounts can usually be stretched over more extended time periods.

Usually, the lender will base a boat loan on a 10%-20% down payment.

Often, you can roll the expenses of accessories like electronics, trailers, and even extended warranties into a boat loan.
Important Considerations Before Buying a Boat
Before you think about which financing option you will go with, you should also take time to think about what truly goes into owning a boat. To help you do this, our team put together a blog post on what first-time owners should know. So be sure to check that out here!
First and foremost, you'll want to think about the ongoing expenses associated with owning a boat. These include slip fees, winterizing, towing, land storage, fuel, boat insurance, repairs, maintenance, registration, and taxes, to name just a few!
If you buy a used boat, also think about getting a marine survey. During the survey, an inspector will look at the vessel to determine if it is safe to take on the water, looking at things like the boat's condition and whether it needs any repairs or maintenance.
Finally, you will also want to consider your credit score. Most lenders will look for credit scores of about 700 or higher. And while you can get a boat loan with a lower credit score, you should expect to pay the penalty in the form of a higher interest rate or a larger down payment.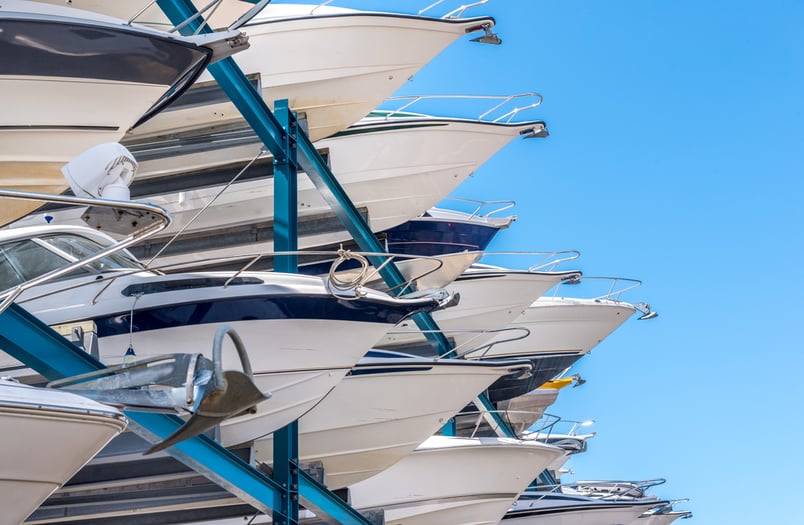 FAQ
How long can you finance a new boat?
A boat loan's range in length with options anywhere from two to 20 years. The amount of money you put down and the loan amount will impact how long the term is.
How long can you finance a used boat?
Loan terms for used boats are similar to those offered for new boats. However, you will have to make sure you're working with a lender that offers loans on used boats.
Is it easier to finance a new or used boat?
You can easily finance both new and used boats. The benefit of buying used is that you can often take out a smaller loan as boat prices are lower and depreciation rates are steadier.
What type of loan is a boat loan?
There are a variety of boat loan types including adjustable and non-adjustable rate loans, secured and unsecured loans, as well as home equity loans.
Can you finance a boat for 20 years?
Yes!
Can you get a 30-year boat loan?
While a 30-year boat loan is not common practice, you can find longer financing options if the boat you purchase is of high value.
With the above information you should feel ready to take on the task of purchasing and financing a boat. Remember – don't hesitate to compare a variety of financing options with different lenders to ensure you get a deal that works for you and your budget long term.
Once your financing is complete, the next step is to get out on the water. Book a slip through Dockwa and get ready for an amazing day (or week) out on the water!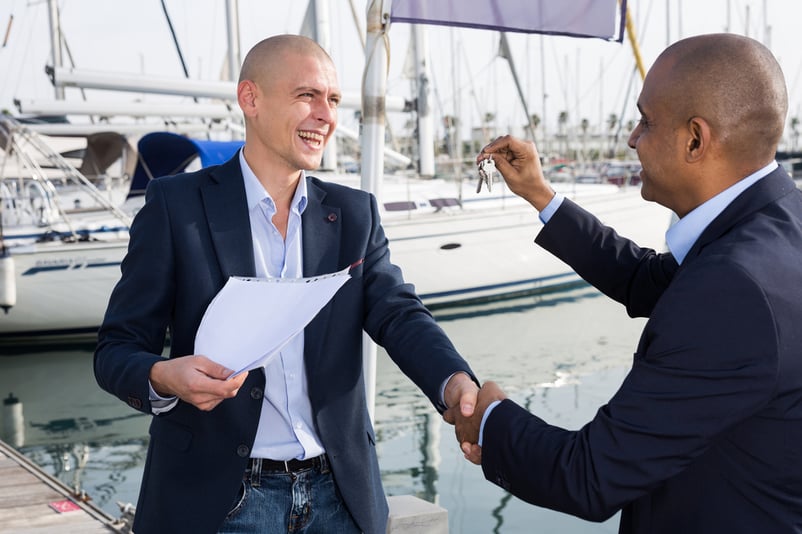 Be sure to check out our other blog posts to get an inside look at our favorite destinations, marinas, and tips for boaters. Join the conversation on Flipboard, Facebook, Twitter, and Instagram.