The marine industry is complex, fluid, and unpredictable. The ancillary factors influencing a marina's availability, response time, and occupancy are vast. Unfortunately, many still rely on paper-based booking systems, and the software is built off archaic interfaces.
A New Way to Book
Frustrated with current options, we set out to build a booking platform from the ground up. The functionality and solution we have made today came from countless days spent with marinas and boaters. We have been listening and building with our customers for years. Their insight, opinions, and needs are what drive Dockwa.
Finally, there's a new way to book. Dockwa's meticulously designed iPhone and Android app allows you to explore, reserve, and pay for slips, docks, and mooring at marinas you know and love in minutes. No more waiting days, even weeks, to hear back; no more stressing about where you might end up. All you have to do is request and relax.
Since we announced Dockwa in January of 2015, we have been taken by the unwavering support from both marinas and boaters. Thousands of people signed up to join Dockwa, and we found that our mission resonates with not just the younger generation of the digital age but people from all walks of life.
How to Make a Reservation
After you've signed up or logged in, review your account information to ensure it's correct and up to date, especially your payment information. Please note if you have a BoatUS membership or a Safe Harbor membership, you should enter this information into your Dockwa account. You can do this under the "Account Profile" section. Once reviewed, you're ready to make reservation requests at any Dockwa marina with just a few clicks!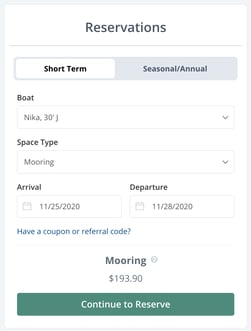 To begin, "Search" for the marina you would like to book at and find the reservation request form on the right-hand side of the marina's Dockwa page. Then, follow the directions below to get started:
Step 1: Under "Reservations," make sure to click "Short Term" (if you are looking to request seasonal or annual dockage/storage, see instructions here).

Select one of the boats from your profile, then select the dates you wish to make a request. Once this information is selected, you will see a quote calculated based on your chosen dates and your boat size. The marinas give us the rates in Dockwa, so this quote is the most accurate estimate you will get. Don't hesitate to contact our support team to submit questions if you still feel the rate is wrong.
Step 2: By clicking "Continue to Reserve," you will be brought to the electricity requirements screen (if offered at the marina), where you can select your requirements. Dockwa calculates the price of the electricity into your reservation on the "Overview" page of the request form. Choose the electric option you need from the drop-down menu, and click "Continue."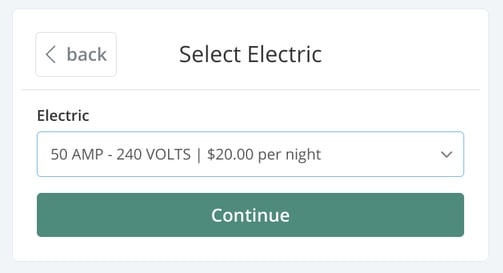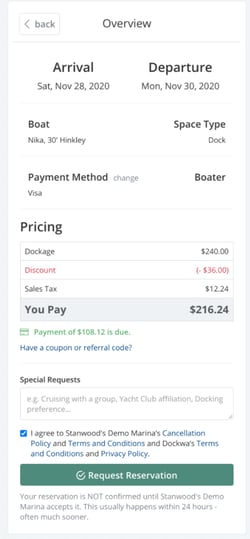 Step 3: Once you've selected "Continue," our app will bring you to the "Overview" page of the reservation request or the checkout page. Here you should review that all of the information in your request is accurate, including the payment information you wish to use, any special requests you may have for the marina, and the complete breakdown of the costs.
Step 4: Before completing your request, you must first agree to the marina cancellation policy and terms of service by checking the checkbox above the green "Request Reservation" button. If you do not check this box, the system will not let you click the "Request Reservation" button.
Step 5: Once you've checked the box, to complete your request, click "Request Reservation," and your request will be submitted directly to the marina for review. If you see the "Pending Reservation" page on your screen after you click submit, you've submitted your reservation request correctly. You will also get a Pending Reservation email from Dockwa.

If you do not see this screen or get the email from Dockwa, your request might not have gone through. If unsure, you can check under your account's "Trips" section to see if a pending reservation exists. You can also reach out to the marina directly to ask, or you can reach out to the Dockwa Support Team for assistance.
Dockwa's App Features
We designed Dockwa's app to be intuitive to anyone who uses it. Swipe your fingers across our region view to explore our offerings. Quickly determine the best location, price, and marina for you and your family. Upload your credit card information for cashless transactions that are secure and reliable.
Onsite purchases for marinas have long been cash-based and hard to track. With the release of our new point of sale feature, marinas can simplify their fuel dock transactions and other on-site charges by enabling boaters to pay by credit card right through Dockwa. This enables better tracking for marinas and a smoother purchase process for boaters.
Get a Central Hub of Transactions: From slips and storage to fuel and service, the new POS gives a single interface for all your transactions.

Get Clear and Comprehensive Reporting: Get advanced accounting reports on all your transactions.

Create New Sales from Anywhere: Use our web-based point of sale or the iOS app to charge boaters and take payments securely. You can even add charges in advance to contracts.
We understand marinas offer a vast array of pricing options contingent upon the size of your vessel, the time of year, and their availability. Do not worry; with Dockwa, the price calculated at checkout is correct for both you and the marina. There is no need for the marina to call you back. They can confirm your reservation and notify you immediately with a single click.
Dockwa also introduced a number of new boater features to make reserving a marina and pulling into a slip easier. These features include:
A new signing and payment flow: The new checkout process described above includes a significantly streamlined signing flow for boaters, which brings every step into one view and gets you confirmed quicker.

Hospitality information: Dockwa has added a view to access all hospitality details right in the free app to keep boaters from having to scramble for information as they approach their stay. Here marinas can add approach instructions, wifi or gate codes, announcements, and helpful hints for a boater's stay.

Response time display: Boaters can now see the average response time for a given marina, which can be helpful when boaters are on a tight schedule or just eager to finalize their plans.

Marina favoriting: Boaters on Dockwa's free app can now indicate their favorite marinas, and the app will rearrange listings to make it easy to find them in one centralized place.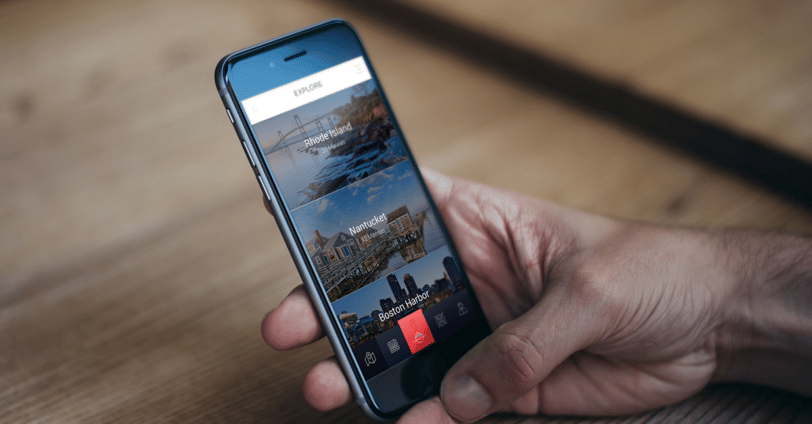 So there you have it! Remember, the most convenient and efficient way to book a marina dock slip or mooring is through Dockwa.com! We're here to provide you the most seamless booking experience, saving you time and money on and off the docks.
Be sure to check out our other blog posts to get an inside look at our favorite destinations, marinas, and tips for first-time boaters. Join the conversation on Flipboard, Facebook, Twitter, and Instagram.