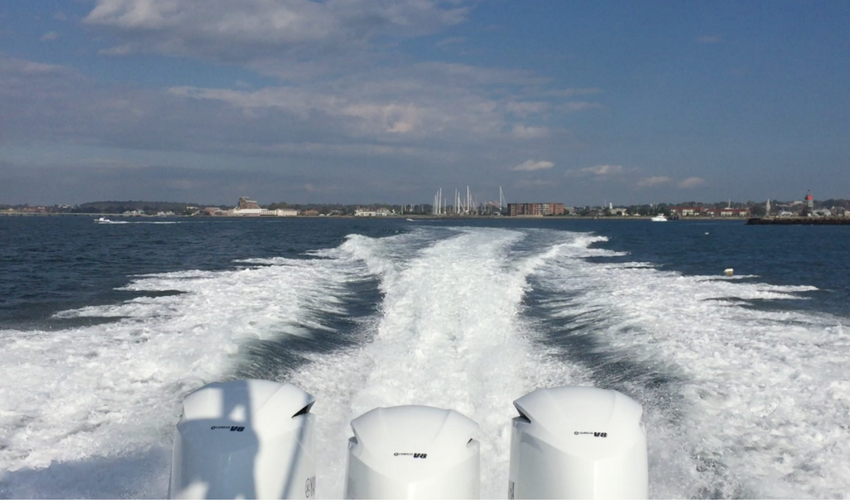 After a long weekend at the Annapolis Boat Show, we made a quick turnaround and left the Newport Yachting Center at 3pm the next day with a course for Stamford, Connecticut. If you've only ever sailed in Newport Harbor and around Block Island, it's a fairly new experience to go screaming by Point Judith within 20 minutes of departure. After a half hour of quickly learning what to hang on to to avoid injury or a dunk in the water, the chop calmed down, the water leveled out, and the ~120 mile ride to Stamford was a breeze.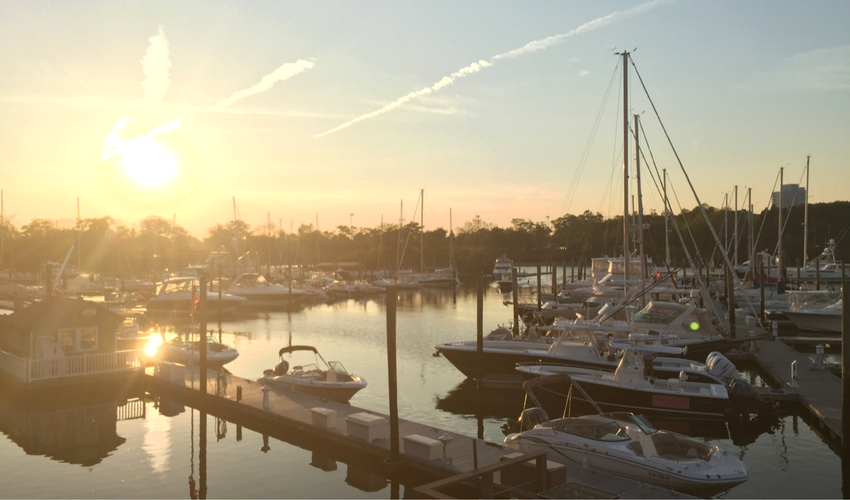 With a quick layover in Connecticut for some final boat preparations, we had a little time to explore the area. While Brewer Yacht Haven in Stamford itself is tucked away in the Vineyard Vines office park, there's plenty within reach of a quick Uber ride. In just 15 minutes we were in Greenwich, with quaint restaurants, pubs, shopping, and things to do.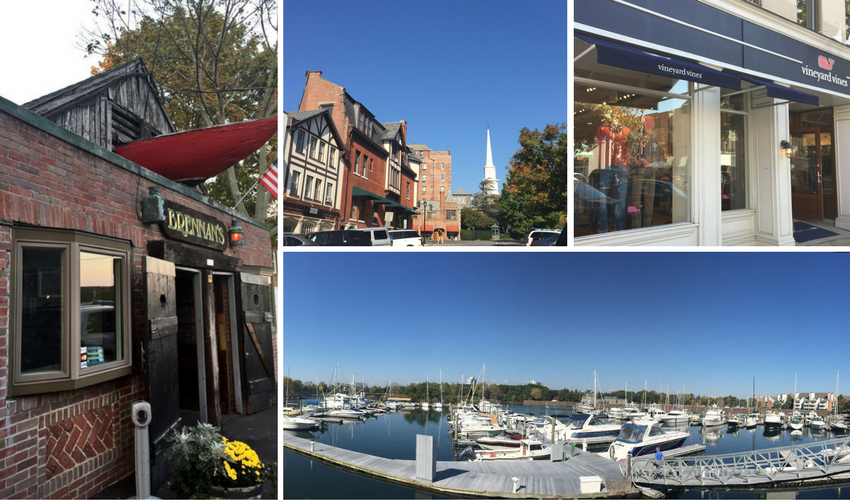 Just a ten-minute walk from the Brewer Yacht Haven docks is Brennan's, a cozy local hangout with great burgers, local brews, outdoor seating, and friendly staff. If there's a game on, it's playing. If you're rowdy, you're in good company. The clientele ranges from local boat folk to NYC stock brokers to families. We popped back over to Greenwich for a spin by the Vineyard Vines store on Greenwich Avenue, and got dinner at one of the cozy pizza joints downtown.
Due to some unforeseen boat logistics our intended departure was delayed, so we used the morning to swing by the local Fairway Market to pick up water and snacks. The boat would be stopping in at a marina each night, so we didn't need to worry about any heavier provisioning. Around 2PM we fueled up at The Marinas at Harbor Point around the corner and high-tailed it out of Stamford down the sound.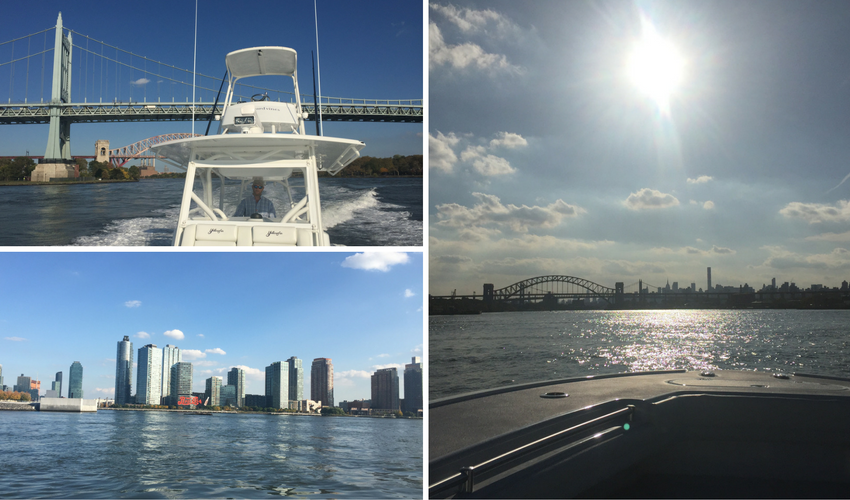 Long Island Sound was a blur for this powerboating rookie at 50MPH. Within 2.5 hours of this 125 mile leg, we were already clear of the last bridge south of NYC, back off the East River and in open water by 4:30PM. We saw a lot of traffic coming up the East River, and only one piece of debris in the water: a massive railroad tie. By 5PM we hit some bigger waves and were getting some serious airtime even at just 30MPH. Then we started to get into more rolling waves – no chop, but still anything not bolted down was apt to go flying.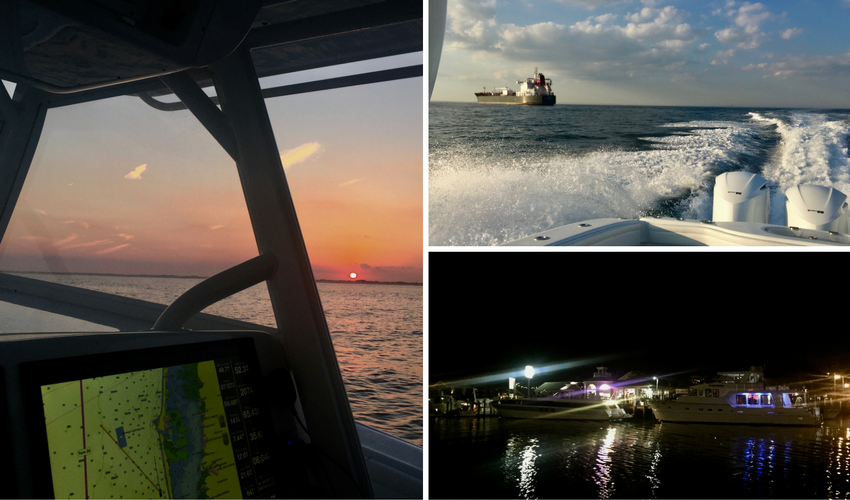 With the morning delay pushing us back from our original destination of Ocean City, MD, we shortened our first leg and began looking for marinas in Atlantic City, New Jersey. Since we hadn't put a reservation request in in advance, it was already dark in the glittering AC when we opened the Dockwa app to make our reservation request at Kammerman's Marina. The moment of truth was upon us! Knowing our plans could change, we hadn't reserved in advance, and to get the true Dockwa Boater experience we gave no advanced warning to any marina that we might be stopping by.
The last-minute booking didn't faze Kammerman's Marina in the slightest: Within minutes we received a message via the chat feature within the app, asking us if a stationary dock was acceptable. We chatted back in the Dockwa app, they approved our reservation, and then we hopped on VHF to get talked into our spot on the dock.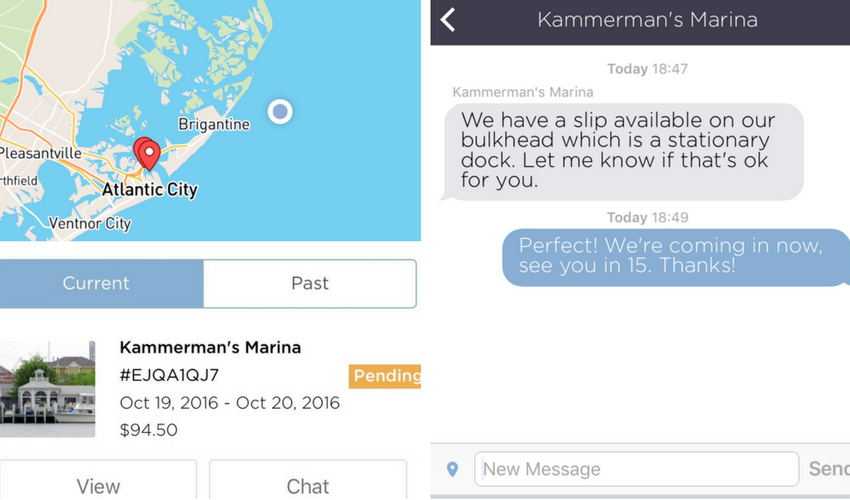 Before staying at Kammerman's Marina, I didn't fully appreciate what it means to be a family-owned and operated marina. As we pulled up to the dock, owners Chris and Stacey Kammerman were both on hand to welcome us, guide us to our spot, help us tie up, and introduce us to the marina's amenities and nearby dining options. When I mentioned the quick response to my last-minute request, Stacey explained that Chris is a local police captain, and that with all the late-night boating traffic Atlantic City sees, they're constantly monitoring Dockwa and Channel 16 for boaters in search of safe harbor. They get calls all hours of the night and always heed the call, and because of their dependability boaters have been returning to Kammerman's for decades.
Once we had the boat squared away for the night, securely tied to the new metal rings Chris had installed on the dock, Stacey drove our crew and another carload of guests to our respective dinner destinations, sharing some of the local history of the harbor, town, and other marinas such as the Golden Nugget Casino and Marina – more on that in a future post.
We opted to check out Atlantic City nightlife with dinner at the Borgata Casino, but called it a night early so we could be back on the docks for 8AM. The marina was busy with boats fueling up and starting out into the thick fog that had settled in overnight. We took the same tack, taking advantage of the BoatUS discount of $0.10 off per gallon of fuel, tied up at the dock at Gilchrist for breakfast sandwiches on Stacey's recommendation.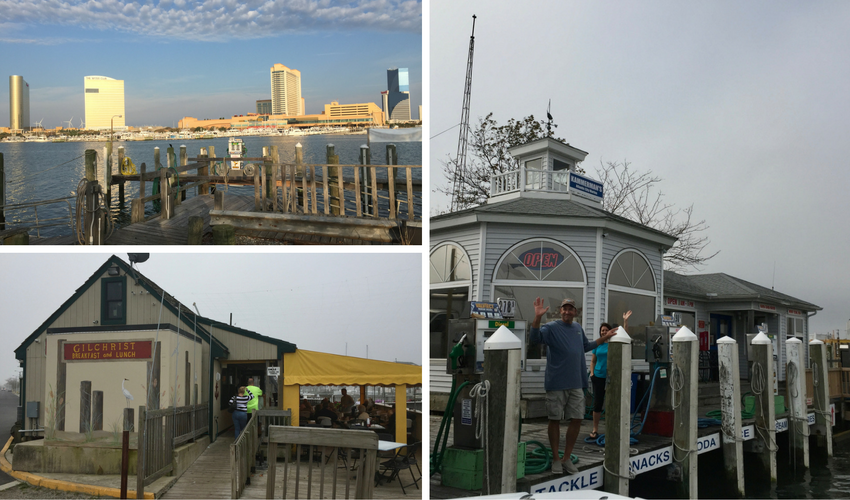 We've been singing their praises since our stay, and can't wait to go back to see what's new.
Next up on the Dockwa blog: Atlantic City to Virginia Beach!
Know of anyone blogging their way down the ICW? Get in touch and we'll share with our boaters – email becky@dockwa.com.