Imagine if Amazon held their annual "Prime Day" just for cruisers looking to book at marinas, yacht clubs, and boat yards? Introducing Dockwa Day: the biggest 24 hour booking frenzy of the year, loaded with Dockwa Deals on slips, moorings, fuel, and more, throughout the country.
With a shortened season courtesy of Covid-19, we wanted to find a way to work with our partner marinas to offer something special to boaters to help get you out more, and in turn help marinas that may have seen a lower turnout this year. Read on for the scoop on Dockwa Deals, Dockwa Day, and a preview of just a handful of the deals you should plan to hop on bright and early on 6/24, before they're gone with the wind.
What are Dockwa Deals?
Every marina on Dockwa has free access to our Deals feature – visit dockwa.com/deals to see which marinas are running deals right this very moment. For boaters, that means you can save a dollar amount or percentage just by clipping the coupon code and entering it on the reservation form when you reserve. But think fast – some coupons are so big, they're limited in how many boaters can claim.
How Does Dockwa Day Work?
For boaters: Sit tight while waiting for Dockwa Day on 6/24, when the Dockwa Deal floodgates open, and stay tuned to our social channels for hints at what some of them may be (Facebook, Facebook Group, Instagram, and Twitter).
For marinas: If you're a Dockwa partner already, hoo boy will this be easy as heck. Click here to submit your Deal and you'll be well on your way. Submit another Deal to bring in boaters while you're eagerly awaiting Dockwa Day, to help get the word out and keep the dock party rockin'.
If you're not a Dockwa partner marina already, we're psyched to help you figure out how Dockwa can help you out! Monthly pricing starts at $99 – well worth it for all the bells and whistles that top off the basic powerhouse that is Dockwa Marina Management Software. Start learning more here, or get in touch now to get the ball rolling by emailing becky@dockwa.com.
Upcoming Dockwa Day Deals
Mark your calendars! These deals aren't live yet, but will be as of June 24, 2020.
The Marina at Dana Point - Dana Point, CA
Get 25% off weekday dockage through 2020 (July 1-5 excluded).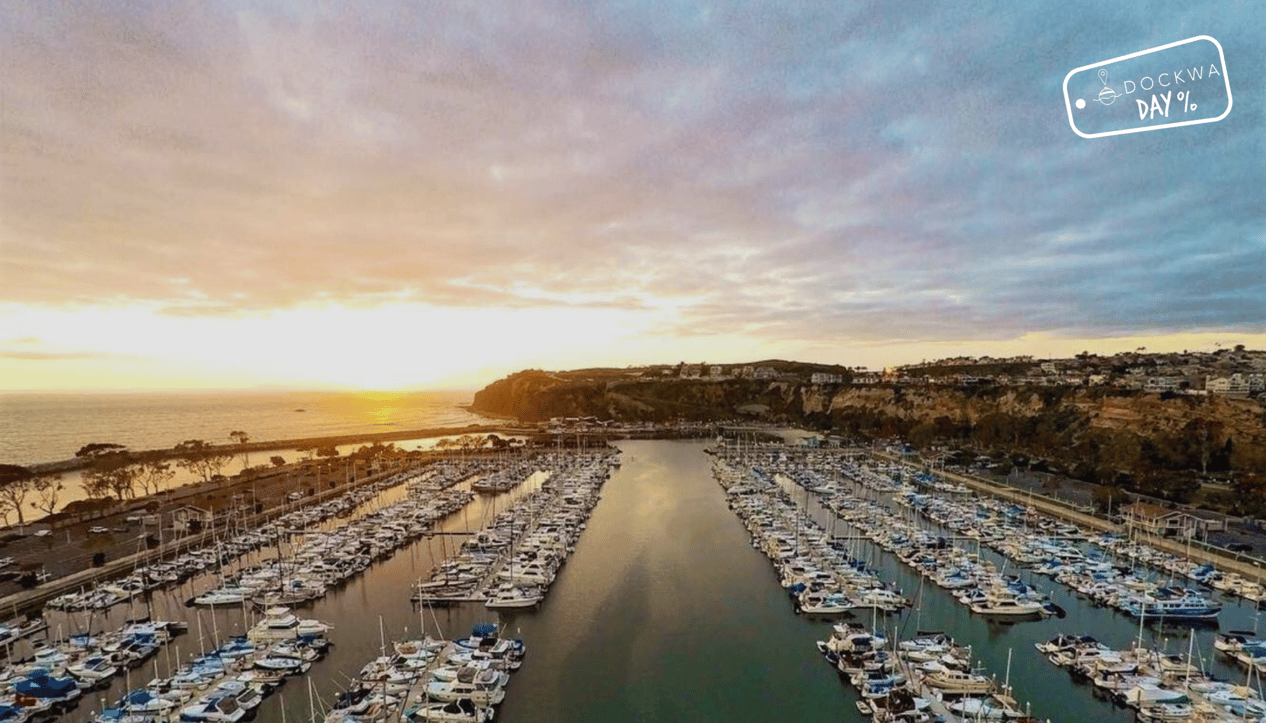 Island Party Hut - Chicago, IL
The first 25 boaters to book will get 50% off weekday dockage.
Tenants Harbor Boat Yard - Tenants Harbor, ME
Get 25% off 2020 dockage (2 night maximum).
Constitution Marina - Boston, MA
Get 25% off 2020 dockage.
ONE°15 Brooklyn Marina - Brooklyn, NY
Get 20% off any 2-6 night stay all summer for all boats under 60 feet (July 2-6 and September 5-7 excluded).
As always, you can book dozens of other great deals on dockage in your area leading up to and after Dockwa Day through our Dockwa Deals page.