Each December, landlubbers around the world start to panic, wondering what to buy the boater in their lives. It's a holiday tradition! That's why we've put together some of our favorite boating-related gift ideas.
If none of the recommendations below resonate with you, you can't go wrong with a gift certificate to an outdoor gear or boat parts store. If the gift recipient in question is a boat owner, pair it with an IOU to help with boat work. Hours on end of repairing or prepping the boat can add up, and a genuine offer to help is usually a welcome one.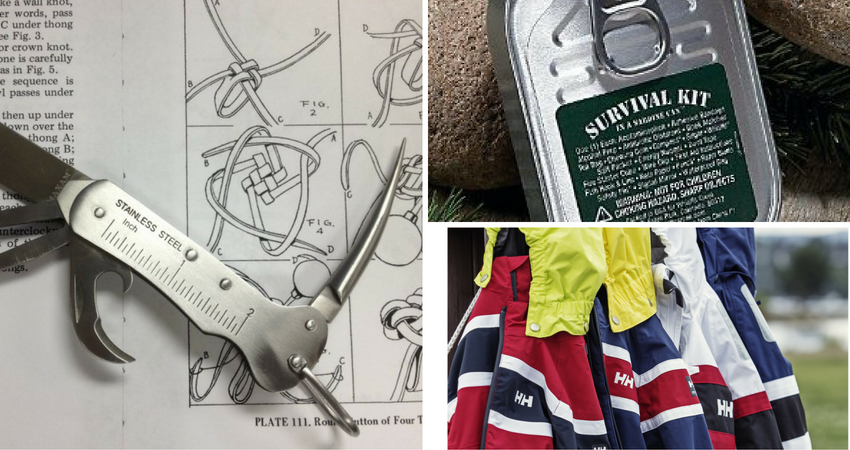 Holiday Gifts to Help Boaters Stay Safe & Warm
Multitools and marlinspikes can come in handy on sailboats; the Maxam tool would make a great stocking-stuffer. Pair it with the Whistle Creek Survival Kit, a sardine tin packed full of items that can get a boater out of a jam.
For anyone north of Florida, it can get pretty chilly on the water even during mid-summer. I keep HotHands Handwarmers in my gloves or pockets when I'm Frostbite racing. This winter I may upgrade to the EnergyFlux Ellipse 5200mAh Rechargeable Hand Warmer.
Merino wool is the best material for staying warm even when doused in salt water – add some merino wool socks or a underlayer to the stocking list. Staying on the theme of staying warm, waterproof wind breakers can be quite a crowd-pleaser. Check out Helly Hansen's waterproof outerwear.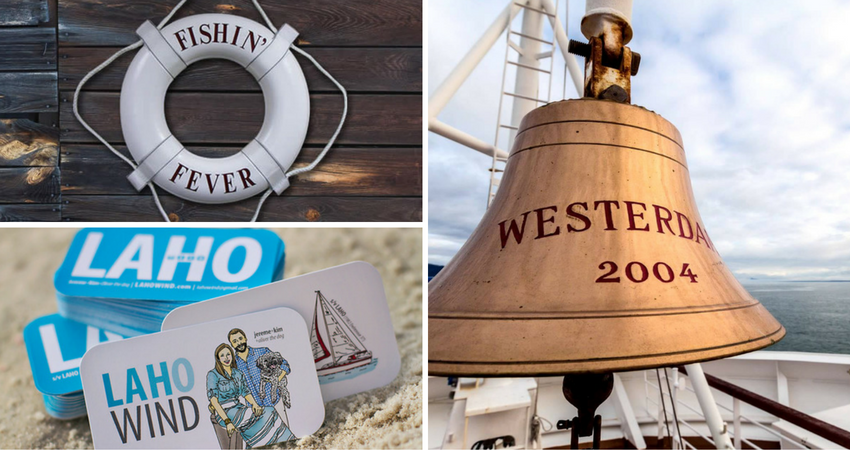 Deck the Spars: Boat Branding Gift Ideas
There are endless ways to personalize a boat. You can customize towels, koozies, coasters, and tote bags quickly on CustomInk. Same goes for crew shirts, vests, and other outerwear. You can also personalize the boat's life ring or dock-side welcome mat. Another classic touch: a ship's brass bell engraved with the name of the boat.
If the boat captain blogs or posts on social media, you can whip up boat business cards on VistaPrint or MOO.com. Include a picture of the boat, blog URL, and social media handles for when he or she meets other boaters.
One tip we found: If a dock box floats away in a big storm, it's much more likely to return to you if it has the boat name on it. If the boat in question is in need of a dock box, buy one and have vinyl lettering put on it with the boat's name, and contact information on the inside.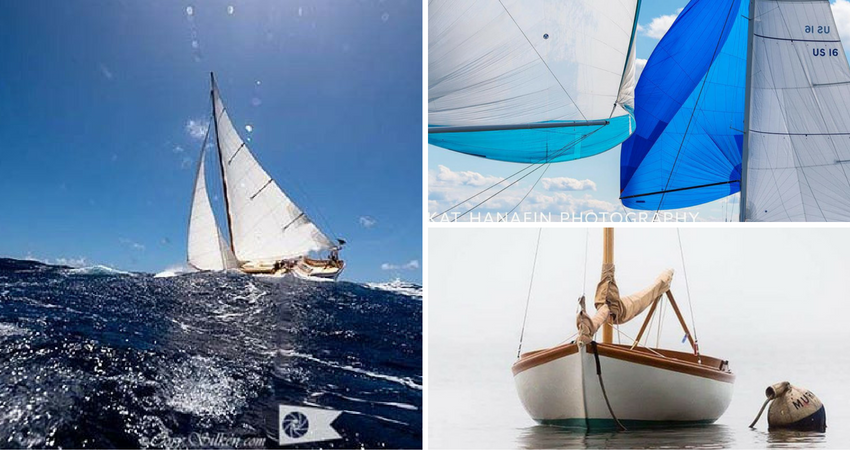 Nautical Decor & Photography

Some boaters love adding on-board flair or bringing their nautical sensibilities into their homes. For starters, check out these unique Below the Boat Wooden Charts, spotted on the gCaptain blog.

If you're up for a somewhat DIY project, have a photo of their boat or harbor mounted and framed. You can also gift a professional photo of their home harbor while supporting local photographers! In New England, two of our favorites include Cory Silken and Kat Hannafin. Wherever you're located, you can buy highharbor and marina photos on marinas.com.

We get a kick out of this "Wanna Sail?" poster, which does a good job representing just how chaotic time aboard can be. It ships from the UK, so you may be cutting it close for Christmas, but you can also download the digital version and have it printed nearby.

Last but not least, we're huge fans of the folks at Mystic Knotworks! They have nautical home decor for all occasions, and well-made jewelry to boot.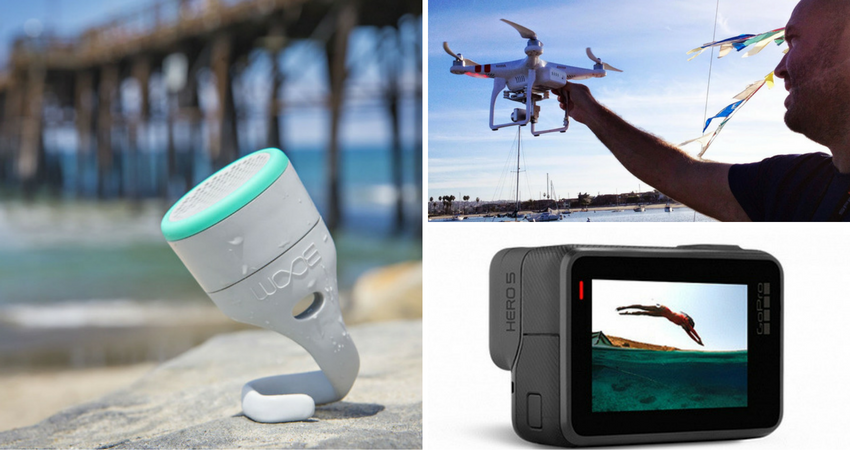 Electronics for Boaters
On boats, it's always good to have a way to check-in. The SPOT Satellite Messenger provides tracking info for the folks at home, and has an SOS option built in as well. Or upgrade to the option heralded by our partners at ActiveCaptain and purchase the DeLorme InReach Explorer with Built-in Navigation.
The pair of Polk Audio waterproof speakers we gave away on our Facebook page this past summer were a huge hit! They pack a punch as far as sound, are waterproof up to 30 feet, and wrap around anything from stantions to swim suits.
Remember how I sent the on-board GoPro 4 to a watery grave just outside Tampa? Of course not, because I left that part out of the delivery recap. On the bright side, the GoPro HERO5 is waterproof without the annoying casing, and takes 4K video and 12MP photos. (Just make sure to tie on a secondary tether if you mount it on the deck.)
Want to help your captain aboard the drone craze? The DJI Phantom 3 Standard Quadcopter Drone will let the him or her take awesome aerial shots of boats, marinas, harbors, and adventures.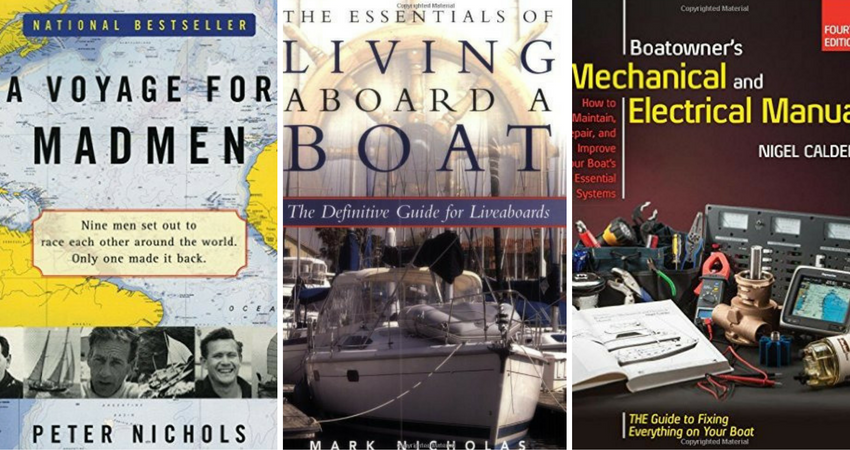 Books on Boating
On the hook, on the dock, or underway, a boater can find some spare time on his hands. Some of our favorites books to pass the time:
A Voyage for Madmen is a great read about the first single-handed circumnavigation race, and the literal madness that went with it. For anyone new to sailing or looking to bring others into it, Sailing: The Basics is a solid read to get you started. For anyone contemplating living aboard, check out The Essentials of Living Aboard a Boat. We've long heard that Nigel Caldwell is the authority when it comes to boat maintenance; check out the Boatowners Mechanical and Electrical Manual.
For a more lighthearted approach: Swallows & Amazons, which is a British classic and an adorable read for kids of all ages. Messages from the Sea is a collection of letters and notes found washed ashore on beaches, bobbing in water, carved onto wreckage, and so on. For the creative types, Lost Ocean, An Inky Adventure is a coloring book for all ages, full of marine and maritime imagery.
Let your boater take a whole slew of books aboard! Amazon's Kindle Paperwhite is lightweight as promised – sometimes I forget I have it with me, and am always glad I do. And if he or she is one to document each voyage, consider having a personalized ship's log created.
The Hook & Moor Boat Hook: How to Blow A Boater's Mind
This spring, on a whim, we posted the above video to our Facebook page (which you should follow), and people went wild. We got in touch with the inventor, he sent us one to give away, which we did, and people went wild again! So get your captain or crew something they'll really go wild for: the amazing Hook & Moor Boat Hook.
Up the Ante: Charter a Boat!
For folks north of Florida, things have gotten a bit crisper. Be bold: Plan a trip to warmer waters! Book a charter with GetMyBoat, the Airbnb of boating, then book your floatplan in Florida, the Bahamas, or the Caribbean!
For good measure: Donate in your boater's name to a seaworthy charity or snag some sweet boating swag in our new Dockwa Gear Store! A portion of the proceeds on all items sold through 12/31/2016 will go to Vs. Cancer, a charity that is very near and dear to our hearts.
Happy Holidays!